NP-1000/NPP-1000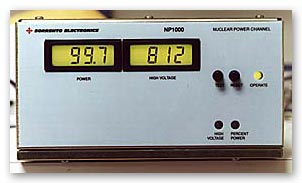 The NP-1000 and NPP-1000 are advanced design analog neutron monitoring safety channels already in use at many research reactor installations worldwide. With the addition of local digital displays their versatility and capabilities have been further enhanced. Existing NP-1000 and NPP-1000 channels can be easily upgraded to incorporate the digital displays.
All NP-1000 channels feature current mode analog circuitry for percent power and pulse power monitoring (NPP-1000 only) using signals generated by a self-powered, in-core detector or an ionization chamber. They include a built-in pulse integrator circuit and circuits for operational testing and calibration. NP-1000 channels may also be used to monitor temperature and other parameters using appropriate transducer signals. Built in safety trip circuits connect to computer analysis systems and/or hard-wired scram systems.
The integrity of NP-1000 output signals is assured by the use of isolation devices. Input signals from as low as 10-9 A to 10-3 A are accommodated. Gain adjustments are manual and range selection either manual or computer controlled. The unit can be configures in a compact NEMA-12 enclosure that can be mounted horizontally or vertically.
SPECIFICATIONS NP-1000 LOG ANALOG SAFETY CHANNEL
INPUT RANGE
10-9 A(min) to 10-3 A (max)
INPUT SENSITIVITIES
10-3 A, 10-4 A, 10-5 A, & 10-7 A
OUTPUT FUNCTIONS & TRIPS

NV (power or flux)
NVT (energy or total flux)
0 (temperature)
HV (high voltage power status)

OUTPUT RESPONSE TIME
25 msec at 2 x 10-7 A
OUTPUT SCALES
0 - 10 V, 0 - 20 mA, & 4 - 20 mA (all with 2500 V isolation)
OPERATING CURRENT
0.5 A
OPERATING VOLTAGE
120 VAC
OPERATING FREQUENCY
50/60 Hz
UNIT DIMENSIONS
8.1 in. high/wide
4.5 in. wide/high
15.1 in. long
UNIT WEIGHT
5 lbs.