industrial Supercritical Water Oxidation (iSCWO)

General Atomics Electromagnetic Systems (GA-EMS) industrial Supercritical Water Oxidation (iSCWO) technology is successfully treating a broad range of pumpable hazardous and non-hazardous waste, with a 99.99% destruction removal efficiency. iSCWO provides a safe, cost effective, and environmentally sound solution to replace alternative technologies that have high emission rates, post treatment requirements, and substantial installation and operation costs.
Safe, effective destruction of
Expired or obsolete pesticides, fertilizers and fungicides
Contaminated water (waste water clean up)
Expired or obsolete paints and/or petroleum products
Petroleum waste streams
Organic cleaning solutions
Energetic material (explosives or propellant)
Unique material not suitable for normal transportation or disposal
For a more complete list of the chemicals successfully treated by the iSCWO process, download the Industrial Supercritical Water Oxidation overview found on this page.
iSCWO - industrial Supercritical Water Oxidation
Safely, Efficiently Destroys Hazardous Waste
Fixed and Transportable Solutions
In addition to offering fixed site solutions, GA-EMS provides the only flexible, transportable iSCWO system available today to facilitate "generate and destroy on-site" capabilities. The modular design allows for rapid set-up and start of process operations. A single three gallons per minute (3 GPM) transportable system consists of one compact equipment skid housed inside a single shipping container with liquid containment to create a convenient, cost effective platform for multiple site waste destruction. Parallel, redundant system designs are available for both fixed and transportable systems to increase throughput and improve efficiency.
iSCWO - How It Works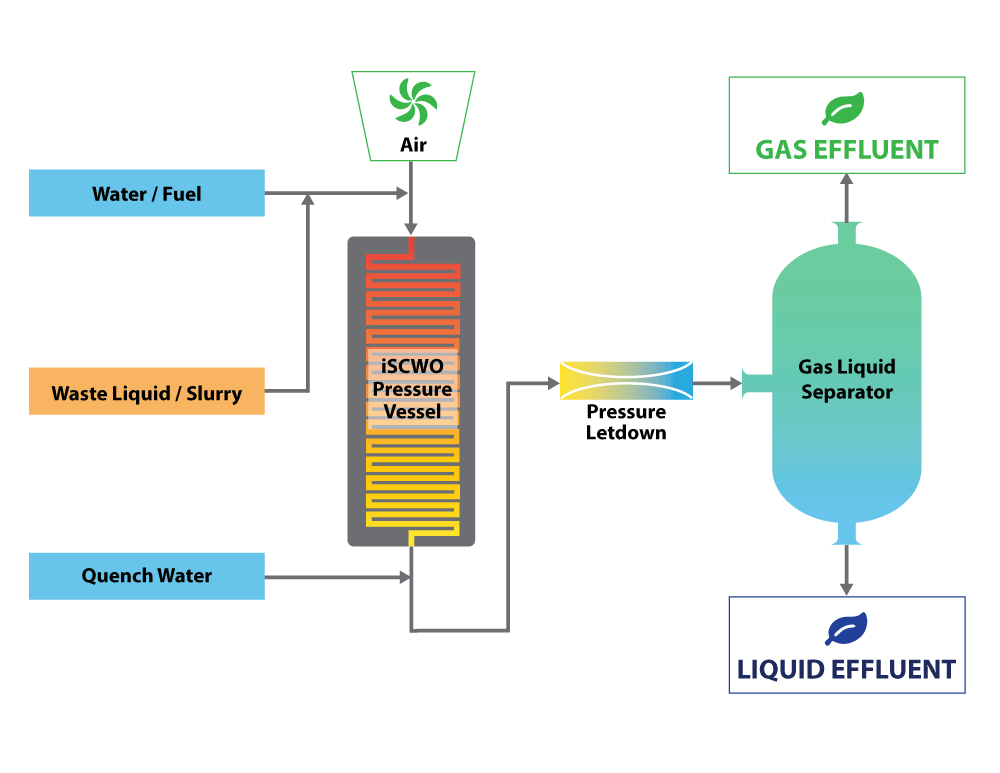 The iSCWO system makes use of the unique properties of water at conditions above its thermodynamic critical point, which is at a pressure of 3206 psi and 374⁰ C. Under these conditions, organic materials, oxidation reactants, and oxidation products are rendered miscible in water, allowing complete oxidation to take place at a high rate. The result of this high temperature, high pressure process is the breakdown of the waste into carbon dioxide, water and salts, all of which can be released into the environment or reused for other industrial purposes without any post treatment. iSCWO operates at 3400 psi and 650⁰C to ensure high destruction efficiency of organic materials.
GA-EMS offers customers various test programs to check the suitability of the iSCWO process for the destruction of a specific waste. The tests are intended to evaluate the waste, determine throughput, identify processing costs, and collect and analyze gas and liquid discharge. Tests are conducted at GA-EMS' dedicated iSCWO test facility. For additional information on the test evaluation process, contact the iSCWO team.