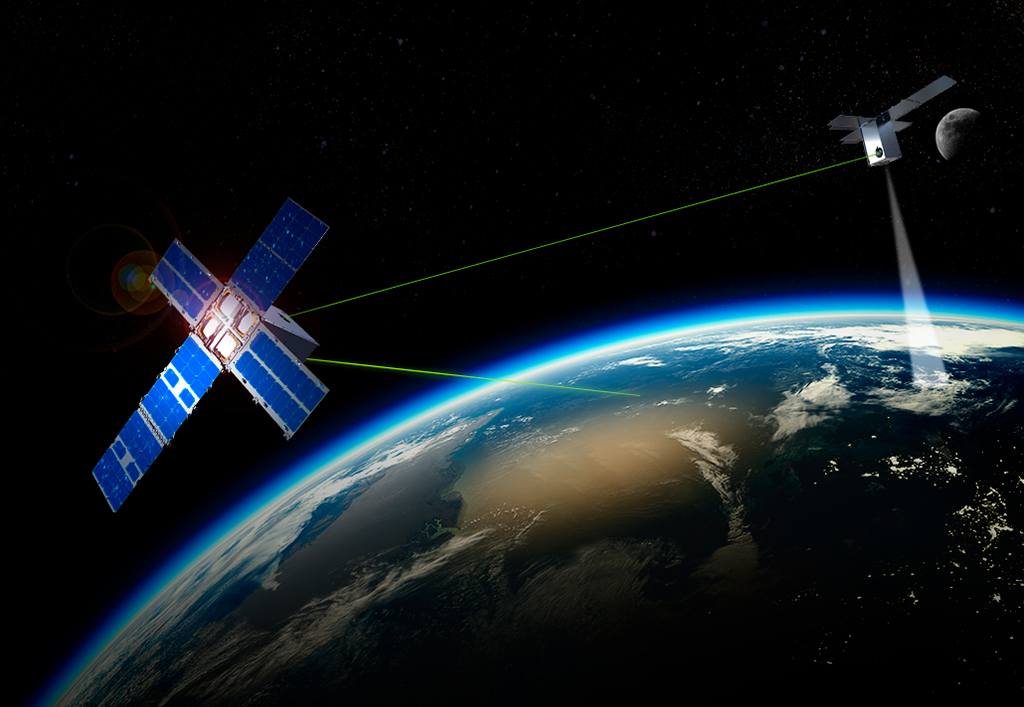 General Atomics Presents Key Space Technologies at the Advanced Maui Optical and Space Surveillance Technologies Conference
SAN DIEGO, CA, (September 16, 2020) - General Atomics Electromagnetic Systems (GA-EMS) announced today that Dr. David Robie, Senior Director of Space Systems at GA-EMS, and Dr. Aaron Freeman, Manager of Optical Engineering at GA-EMS, will be presenting the company's latest innovations in Optical Intersatellite Link (OISL) and Infrared (IR) payloads for small satellites at the virtual Advanced Maui Optical and Space Surveillance Technologies (AMOS) conference, Sept. 16.
"For several years, GA-EMS has been leading the way in developing OISL technology that will fundamentally advance space-based communications," stated Scott Forney, president of GA-EMS. "Our series of laser communication terminals (LCT) can significantly increase satellite crosslink data transfer rates and downlink data rates. GA-EMS has continued to gain momentum in the space community, and we are excited to present the significant technology advancements we've made in the area of satellite communications and small, capable IR payloads to those attending the virtual AMOS conference."
GA-EMS is partnered with the Space Development Agency (SDA) to conduct a series of on-orbit experiments to demonstrate the first OISL communication between micro-satellites. Currently, GA-EMS is assembling, integrating and testing two 12U CubeSat spacecraft at their facilities in San Diego, CA and Huntsville, AL, each of which will host a GA-EMS LCT and IR payload for use during the SDA funded study. An anticipated launch date is scheduled for March 2021.
"Proliferated Low Earth Orbit (LEO) constellations of small satellites hosting low cost, high-performance payloads and sharing data via OISL will provide the foundation of future, resilient, affordable space architectures delivering critical space-based services for national security and commercial endeavors," said Forney. "Supported by our legacy in small satellite development, flight experience, and hosted payload solutions, GA-EMS looks forward to maturing affordable, modular, compact LCT and IR-imaging payload technology that will allow our customers increased communication capabilities without necessitating extensive redesign and qualification."
About General Atomics Electromagnetic Systems
General Atomics Electromagnetic Systems (GA-EMS) Group is a global leader in the research, design, and manufacture of first-of-a-kind electromagnetic and electric power generation systems. GA-EMS' history of research, development, and technology innovation has led to an expanding portfolio of specialized products and integrated system solutions supporting aviation, space systems and satellites, missile defense, power and energy, and processing and monitoring applications for critical defense, industrial, and commercial customers worldwide. For further information, visit www.ga.com/ems.
For further information contact:
EMS-MediaRelations@ga.com