General Atomics' iSCWO Process Tested, Verified by EPA For the Destruction of PFAS
SAN DIEGO - 24 April 2023 - General Atomics Electromagnetic Systems (GA-EMS) announced today that the Environmental Protection Agency (EPA) issued a detailed report (EPA/600/R-22/257) documenting test results and verifying GA-EMS' commercial industrial Supercritical Water Oxidation (iSCWO) system's effectiveness in the destruction of per-and polyfluoroalkyl substances (PFAS). PFAS are a large class of "forever chemicals" present in the environment and associated with adverse health effects due to exposure to the chemicals. Testing was conducted by the EPA and GA-EMS using PFAS-containing firefighting foam. The test results documented in the EPA report verify the iSCWO system's capability to effectively destroy PFAS with a destruction efficiency greater than 99.99%.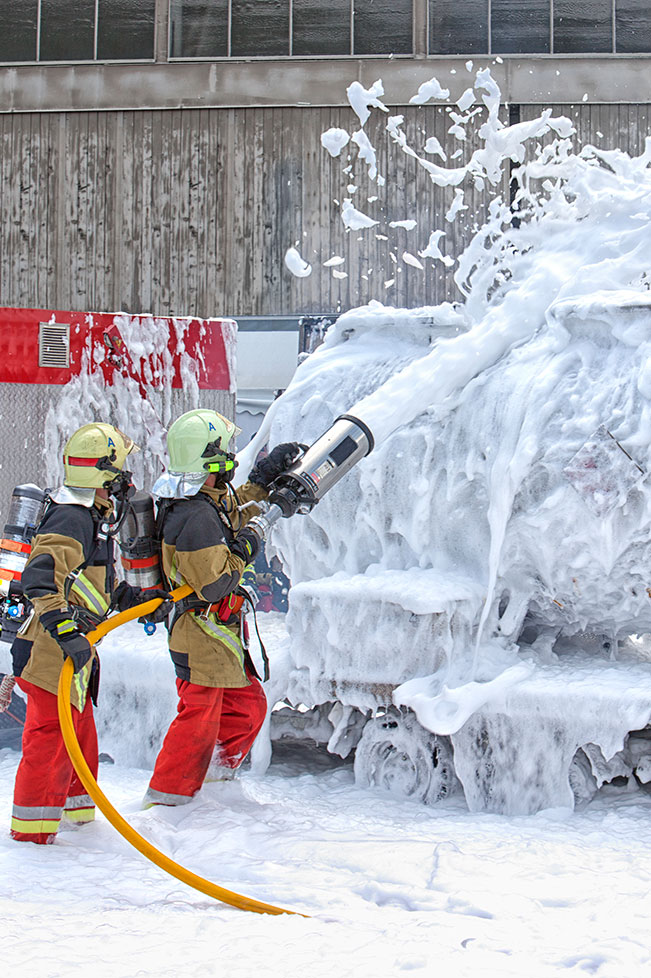 "We are extremely excited to break this news. With the Pentagon's recent ban on incinerating PFAS-containing items, including PFAS-ladened firefighting foam, there is now greater urgency to implement a more efficient, environmentally sound solution for the destruction of these chemicals," stated Scott Forney, president of GA-EMS. "GA-EMS' iSCWO is that solution. We are proud to have worked with the EPA to perform testing using our iSCWO system, and to validate the system's effectiveness in destroying PFAS in a highly efficient, economical manner that is friendly and safe to the environment."
Testing was performed at GA-EMS' San Diego facilities using various concentrations of aqueous film forming foam (AFFF), a specialized PFAS-containing firefighting foam used extensively for training and firefighting jet fuel and other types of fires. iSCWO technology mixes organic waste with water and processes it in a supercritical heat and pressure environment to efficiently destroy hazardous and non-hazardous waste. The result of this process is the breakdown of the waste into carbon dioxide, water, and very low amounts of benign salts, all of which can be released into a public-owned treatment works facility or the environment if applicable, without any post-treatment requirement.
"We have been advancing SCWO technology since the 1990s, supplying systems to support the government, and since 2012, supplying iSCWO systems to commercial users for waste destruction purposes," continued Forney. "iSCWO can be implemented at remote sites for environmental cleanup and remediation applications, to facilitate generate and destroy on-site capabilities and eliminate the need and expense of transporting PFAS waste off-site for treatment. One of the many advantages of our iSCWO system is that even if the PFAS waste contains other hazardous organic waste, iSCWO will simultaneously destroy the PFAS and the other waste with the same 99.99% or greater efficiency."
For information regarding iSCWO technology, please visit: www.ga.com/hazardous-waste-destruction.
The EPA Report is available for download at: Industrial SCWO for the Treatment of PFAS/AFFF Within a Water Matrix | Science Inventory | US EPA
About General Atomics Electromagnetic Systems
General Atomics Electromagnetic Systems (GA-EMS) Group is a global leader in the research, design, and manufacture of first-of-a-kind electromagnetic and electric power generation systems. GA-EMS' history of research, development, and technology innovation has led to an expanding portfolio of specialized products and integrated system solutions supporting aviation, space systems and satellites, missile defense, power and energy, and processing and monitoring applications for defense, industrial, and commercial customers worldwide.

Media Contact: EMS-MediaRelations@ga.com