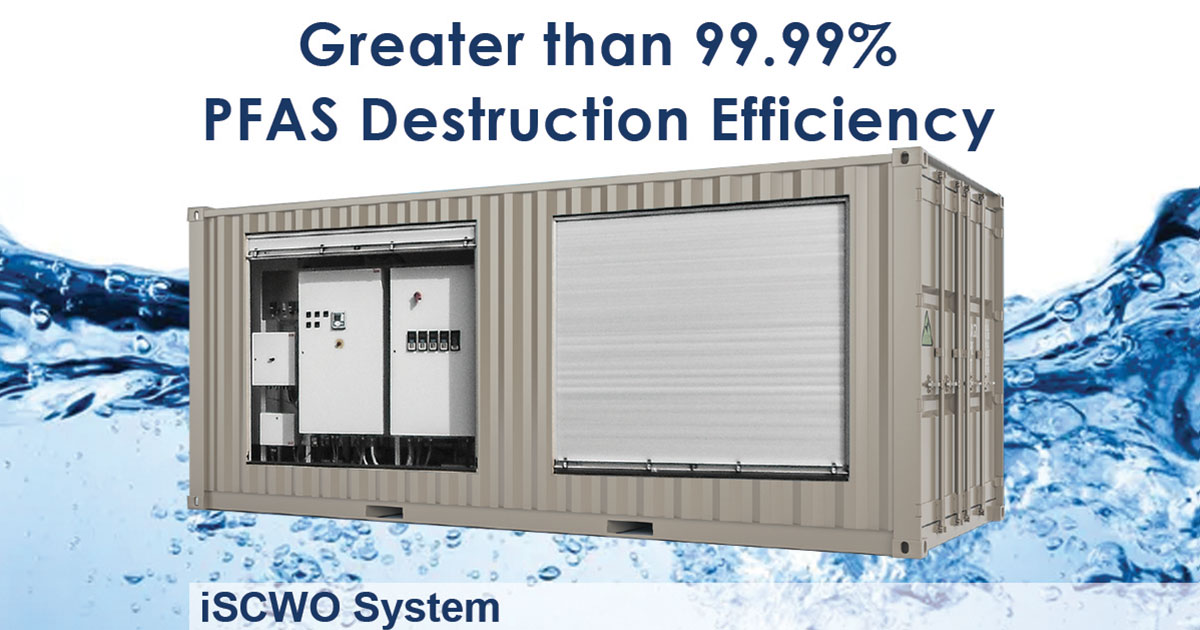 General Atomics Destroys PFAS "Forever Chemicals" in Landfill Leachate
SAN DIEGO – 16 Aug 2023 - General Atomics Electromagnetic Systems (GA-EMS) announced today that its industrial Supercritical Water Oxidation (iSCWO) system has successfully destroyed per-and polyfluoroalkyl substances (PFAS)-contaminated landfill leachate sourced from a municipal landfill. Leachate is a liquid generated when water percolates through municipal solid waste landfills, accumulating contaminants as it moves into collection or subsurface areas.
GA-EMS is working with landfill operators to demonstrate and deliver test analysis verifying that GA-EMS' iSCWO system's capability to eliminate PFAS and other hazardous organic waste in leachate. Testing is conducted at GA-EMS' dedicated iSCWO test facility in San Diego.
"This year, the Environmental Protection Agency announced new, stricter guidelines to address the growing concerns regarding PFAS levels in leachate. With thousands of active and closed landfills across the United States discharging leachate into the environment, it is imperative to field systems like iSCWO to destroy PFAS chemicals and end the cycle of contamination," said Scott Forney, president of GA-EMS.
"iSCWO's unique design provides customers with a more efficient, cost-effective on-site solution to simultaneously eliminate PFAS and other organic waste at its source," Forney continued.
Commercially available and fielded since 2012, GA-EMS' iSCWO system processes organic waste with water in an extremely high temperature (650°C) and high-pressure (4000 psi) environment to destroy hazardous and non-hazardous contaminants. There is no post-treatment required, no gas and liquid emissions to deal with, and no hazardous by-products to dispose of. The iSCWO system's modular, compact footprint allows for convenient on-site installation into existing infrastructure. The system is simple to operate and easy to maintain.
PFAS chemicals are called "forever chemicals" because they do not naturally degrade, remaining persistent in the environment and in the body, causing serious health problems. The Environmental Protection Agency (EPA) issued a detailed report documenting the first-ever test and verification of PFAS destruction using GA-EMS' iSCWO technology, with a destruction efficiency greater than 99.99%. For further information, visit www.ga.com/hazardous-waste-destruction
About General Atomics Electromagnetic Systems
General Atomics Electromagnetic Systems (GA-EMS) Group is a global leader in the research, design, and manufacture of first-of-a-kind electromagnetic and power generation systems. GA-EMS' history of research, development, and technology innovation has led to an expanding portfolio of specialized products and integrated system solutions supporting aviation, space systems and satellites, missile defense, power and energy, and processing and monitoring applications for defense, industrial, and commercial customers worldwide.

Media Contact
EMS-MediaRelations@ga.com