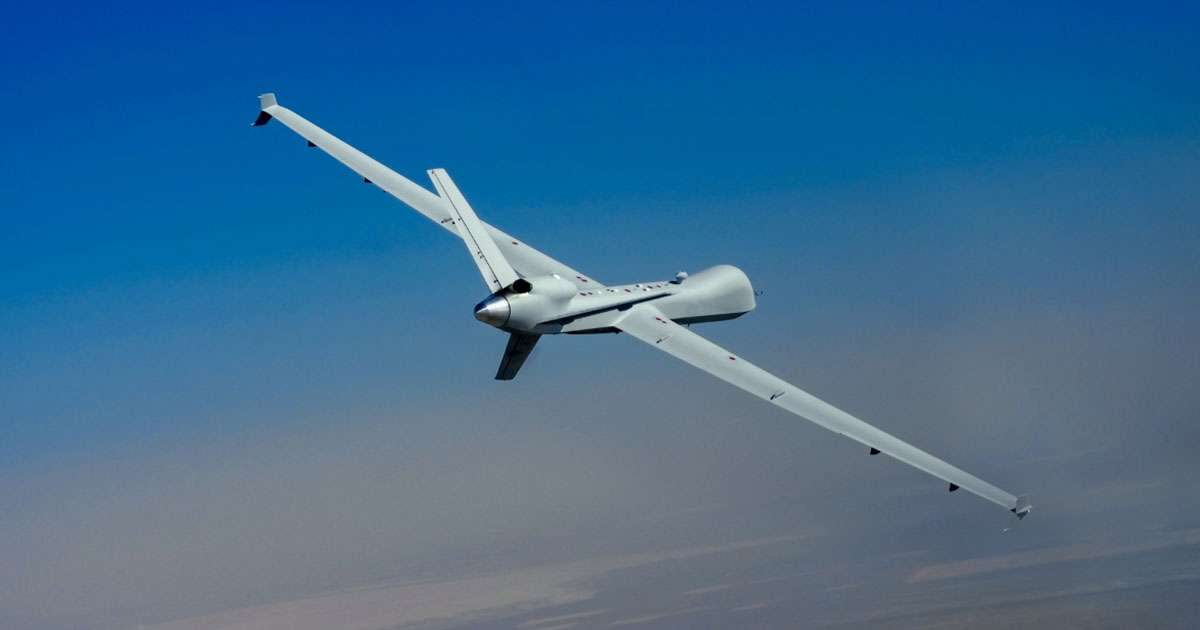 USMC Use GA-ASI MQ-9A for Training Exercise
SAN DIEGO – 30 March 2023 – General Atomics Aeronautical Systems, Inc. (GA-ASI) is working with the U.S. Marine Corps (USMC) on a series of Service-Level Training Exercises (SLTE) using a company-owned MQ-9A Unmanned Aircraft System to support the Marine Air-Ground Task Force Training Command (MAGTFTC). The SLTE 2-23 is being conducted near Twentynine Palms, Calif. with participation from Joint Forces. The training ensures participants are prepared for the future dynamic environment.
Contracting the use of MQ-9A enabled USMC to begin integrating Group 5 unmanned aircraft into the Marine Air-Ground Task Force for the first time within the various exercises. GA-ASI began flying the MQ-9A on Feb. 3, 2023, with a combination of GA-ASI and VMU-3 pilots and sensor operators. The aircraft flew out of GA-ASI's facility at the Yuma Proving Ground, Ariz., with flights over training ranges in Southwest-Continental United States (CONUS). The MQ-9A is providing its proven Intelligence, Surveillance and Reconnaissance (ISR) data package – including GA-ASI's Lynx® Multi-mode Radar – to provide the USMC with extraordinary situational awareness and simulated close air support.
"GA-ASI is always ready and willing to support the USMC exercises," said GA-ASI Vice President of DoD Strategic Development, Patrick Shortsleeve. "We know that being able to utilize an actual MQ-9A is critical to the success of these exercises and helps the USMC ramp-up their training program."
The SLTE Program consists of a series of exercises, including the live-fire Integrated Training Exercise (ITX), Marine Littoral Regiment Training Exercise (MLR TE), and Force-on-Force (FoF) MAGTF Warfighting Exercise (MWX). MAGTFTC executes the SLTE Program, which includes simulated and live-fire armed exercises, to enhance the readiness of the Fleet Marine Forces and support the Marine Corps' responsibilities to national security.
GA-ASI was contracted by the USMC in 2022 to deliver eight MQ-9A Extended Range (ER) UAS as part of the ARES Indefinite-Delivery/Indefinite-Quantity (ID/IQ) contract.
About GA-ASI
General Atomics-Aeronautical Systems, Inc. (GA-ASI), an affiliate of General Atomics, is a leading designer and manufacturer of proven, reliable remotely piloted aircraft (RPA) systems, radars, and electro-optic and related mission systems, including the Predator® RPA series and the Lynx® Multi-mode Radar. With more than seven million flight hours, GA-ASI provides long-endurance, mission-capable aircraft with integrated sensor and data link systems required to deliver persistent flight that enables situational awareness and rapid strike. The company also produces a variety of ground control stations and sensor control/image analysis software, offers pilot training and support services, and develops meta-material antennas. For more information, visit www.ga-asi.com


Avenger, Lynx, Predator, SeaGuardian and SkyGuardian are registered trademarks of General Atomics Aeronautical Systems, Inc.