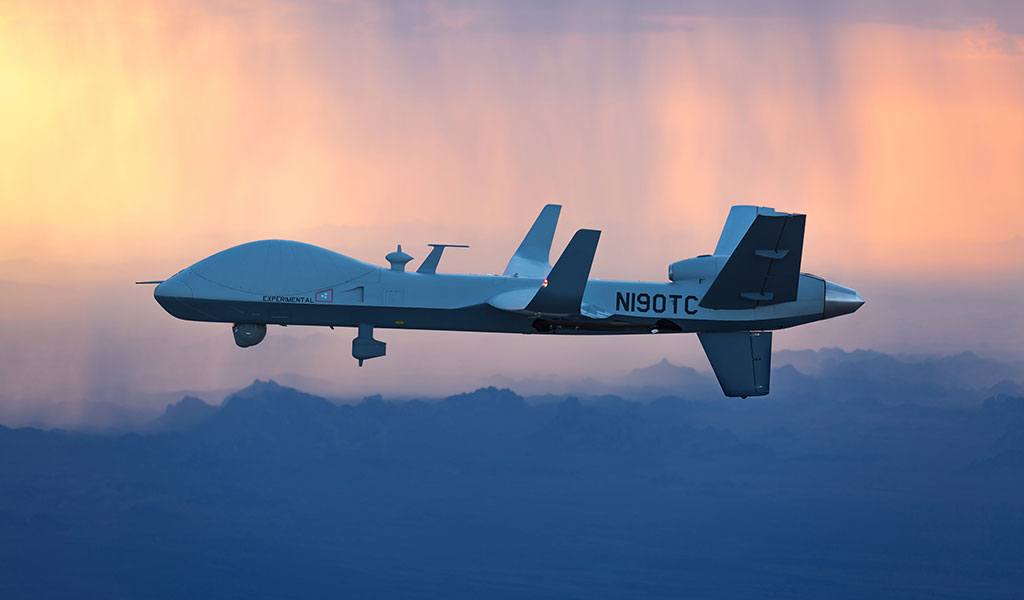 SkyGuardian Takes Off From North Dakota On Trans-Atlantic Flight
GA-ASI Making History with First-Time Flight of MALE RPA trans-Atlantic
GRAND FORKS – 10 July 2018 – Today at 12:48 p.m. CDT a Medium-altitude, Long-endurance (MALE) Remotely Piloted Aircraft (RPA) produced by General Atomics Aeronautical Systems, Inc. (GA‑ASI) took off from Grand Forks, North Dakota, USA on the first-ever trans-Atlantic flight of a MALE RPA. GA-ASI's company-owned MQ-9B SkyGuardian is in flight, bound for Royal Air Force (RAF) Fairford in Gloucestershire, UK, where it is scheduled to land at approximately 6:45 p.m. local time (GMT+1) on July 11th.
"This is a very exciting moment in GA-ASI's history," said Linden Blue, CEO, GA-ASI. "To demonstrate the long endurance of unmanned aircraft systems, we took on the challenge of flying a MALE RPA across the Atlantic. This effort has taken a lot of coordination and we appreciate the support of the CAA, RIAT organization and the RAF in this endeavor."
Over the past 10 years, the RAF has operated GA-ASI's MQ-9 Reapers® in various theatres of operation. The RAF is celebrating its 100-year anniversary (RAF100), and to commemorate the event GA-ASI is flying SkyGuardian to RAF Fairford, where the Royal International Air Tattoo (RIAT) airshow will be held July 13-15. SkyGuardian will be on static display during the show. The RAF is acquiring MQ-9B for its PROTECTOR RG Mk1 program.
MQ-9B is the new generation of GA-ASI's multi-mission Predator® B product line. The company named its baseline MQ-9B aircraft SkyGuardian, and the maritime surveillance variant SeaGuardian. MQ-9B is a "certifiable" (STANAG 4671-compliant) version of the Predator B product line. Its development is the result of a five-year, company-funded effort to deliver a RPA system that can meet the stringent airworthiness type-certification requirements of various military and civil authorities, including the UK Military Airworthiness Authority (MAA) and the U.S. FAA.
Inmarsat Government is supporting GA-ASI's flight with its L-band SATCOM service, SwiftBroadband, which provides resilient, seamless backup-connectivity throughout the duration of the flight. SkyGuardian and its North Dakota-based ground control station are using SATCOM to communicate with and control the aircraft, to include the command for automatic landing at Fairford.
"Inmarsat has been servicing the demanding 'anywhere, anytime' nature of airborne operations for decades, and is the market leader in providing reliable, global, mobile L- and Ka-band connectivity," said Kai Tang, chief commercial officer, Inmarsat Government. "Reliable SATCOM is a critical enabler for any mission, and this trans-Atlantic flight test has vividly highlighted its importance. This is a truly historical event made possible by ingenuity and impressive integration and engineering from the GA team, and Inmarsat is very proud to be a part of it."
The service also provides full flexibility in route selection for the long-endurance flight, while supporting mission-critical and time-sensitive data transmission, including imagery and video.
High-resolution photos of MQ-9B SkyGuardian are available to qualified media outlets from the listed GA-ASI media contact. For more information on the trans-Atlantic flight, go to http://www.ga-asi.com/trans-atlantic-flight.
About GA-ASI
General Atomics Aeronautical Systems, Inc. (GA-ASI), an affiliate of General Atomics, is the leading designer and manufacturer of proven, reliable Remotely Piloted Aircraft (RPA) systems, radars, and electro-optic and related mission systems, including the Predator® RPA series and the Lynx® Multi-mode Radar. With more than 5 million flight hours, GA-ASI provides long-endurance, mission-capable aircraft with integrated sensor and data link systems required to deliver persistent flight that enables situational awareness and rapid strike. The company also produces a variety of ground control stations and sensor control/image analysis software, offers pilot training and support services, and develops meta-material antennas. For more information, visit www.ga-asi.com.
Reaper, Predator, and Lynx are registered trademarks of General Atomics Aeronautical Systems, Inc.
About Inmarsat Government
The U.S. government has relied on and trusted Inmarsat satellite services since 1979. Inmarsat Government continues to deliver the world's most advanced global, mobile satellite communication services to U.S. defense, intelligence, homeland security, public safety and civilian agencies, with highly reliable, secure and affordable connectivity. Built with government users in mind, Inmarsat Government provides resilient, flexible capabilities to augment government satellite resources, anytime, anywhere. Leveraging an industry-leading scalable multiband network infrastructure, Inmarsat Government offers a suite of managed network services and end-to-end communication solutions to support users on land, at sea and in the air, even in the world's most remote regions. Headquartered in Reston, VA, Inmarsat Government is a wholly-owned subsidiary of Inmarsat plc. For more information, please visit www.inmarsatgov.com.
The Inmarsat press release newsfeed and corporate updates are on @InmarsatGlobal.
For more information contact:
Melissa Haynes
General Atomics Aeronautical Systems, Inc.
+1 (858) 524-8108
ASI-MediaRelations@ga-asi.com