Second MQ-9B SkyGuardian Completes First Flight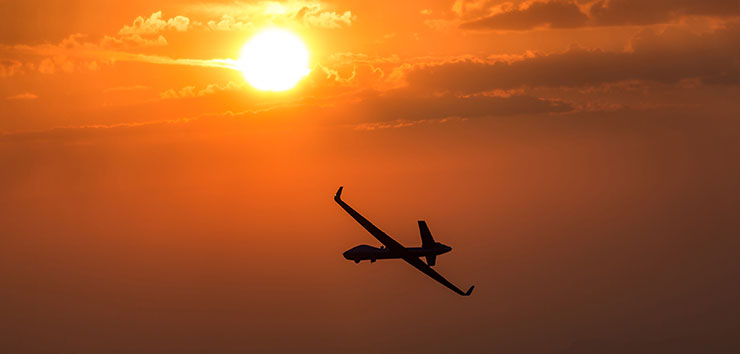 SAN DIEGO – 02 October 2018 – General Atomics Aeronautical Systems, Inc. (GA-ASI) completed the first flight of its second MQ-9B SkyGuardian Remotely Piloted Aircraft (RPA) (YBC02) aircraft on September 26. The flight of the company-owned aircraft was conducted at Laguna Army Airfield in Yuma Proving Grounds.
"We're very pleased to have our second MQ-9B aircraft completed and flying," said David R. Alexander, president, Aircraft Systems, GA-ASI. "MQ-9B development continues to move forward on schedule as we look forward to our first customer delivery in the early 2020s."
The second MQ-9B SkyGuardian gives the GA-ASI program team another aircraft to perform important development testing and demonstrations. New capabilities that weren't available when the first aircraft was completed in 2016, such as lightning protection, an upgraded avionics and software suite, and a de-icing system, have been included as part of MQ-9B's roadmap to become the first RPA to be certified to fly in civil airspace.
The upcoming test schedule for YBC02 includes further flight envelope expansion testing, testing of the Certified Redundant Control Module, flight controller updates, and testing of the Certifiable Ground Control Station (C-GCS).
The first MQ-9B SkyGuardian aircraft has been busy, completing more than 75 flights and 400 flight test hours. Last year the aircraft set an endurance record for Predator® series aircraft when it flew for more than 48 consecutive hours. In December it was used to demonstrate Automatic Takeoff and Landing Capability using SATCOM only. Then in July, it completed a trans-Atlantic flight that took off from Grand Forks, North Dakota, USA, landing at Royal Air Force (RAF) Fairford in Gloucestershire, UK. The flight covered 3,760 nautical mile flight in just over 24 hours. The RAF is acquiring MQ-9B SkyGuardian as part of its PROTECTOR RG Mk1 program.
MQ-9B is the latest evolution of GA-ASI's multi-mission Predator® B fleet. GA-ASI named its baseline MQ-9B aircraft SkyGuardian, and the maritime surveillance variant SeaGuardian. Its development is the result of a five-year, company-funded effort to deliver a RPA that can meet the stringent airworthiness type-certification requirements of various military and civil authorities, including the UK Military Airworthiness Authority (MAA) and eventually the U.S. FAA.
Hi-resolution photos of MQ-9B SkyGuardian are available to qualified media outlets from the listed GA-ASI media contact.
About GA-ASI
General Atomics Aeronautical Systems, Inc. (GA-ASI), an affiliate of General Atomics, is the leading designer and manufacturer of proven, reliable Remotely Piloted Aircraft (RPA) systems, radars, and electro-optic and related mission systems, including the Predator® RPA series and the Lynx® Multi-mode Radar. With more than five million flight hours, GA-ASI provides long-endurance, mission-capable aircraft with integrated sensor and data link systems required to deliver persistent flight that enables situational awareness and rapid strike. The company also produces a variety of ground control stations and sensor control/image analysis software, offers pilot training and support services, and develops meta-material antennas. For more information, visit www.ga-asi.com.
Reaper, Predator, and Lynx are registered trademarks of General Atomics Aeronautical Systems, Inc.
For more information contact:
Melissa Haynes
General Atomics Aeronautical Systems, Inc.
+1 (858) 524-8108
ASI-MediaRelations@ga-asi.com