San Diego Mayor Todd Gloria Tours General Atomics Fusion Facilities
Gloria joined by representatives of the San Diego Regional Economic Development Corporation; tours DIII-D National Fusion Facility and GA's inertial fusion manufacturing laboratories
San Diego, May 9 – San Diego Mayor Todd Gloria visited General Atomics (GA) to tour the DIII-D National Fusion Facility and GA's inertial fusion laboratories. Mayor Gloria was joined by representatives of the San Diego Regional Economic Development Corporation. During the visit, the delegation learned about the important role the San Diego region is playing in the development of fusion as an energy source.
"GA is a globally recognized leader in the advancement of fusion science, research, and technology, and we were honored to show Mayor Gloria how we are helping to shape the future of clean energy," said Dr. Anantha Krishnan, Senior Vice President of the Energy Group.
Fusion holds the promise of providing nearly limitless clean, safe, and always-available energy. Fueled primarily by isotopes of hydrogen found in seawater and capable of generating its own fuel during operation, a fusion energy facility would provide around-the-clock sustainable energy without any harmful emissions or long-lived waste.
Approximately $750 million to $1 billion is spent in California annually on fusion research and development, including research at national labs, privately led innovations in the commercial sector, and academic programs at world-leading universities. Future developments in fusion science and technology could significantly increase the amount of fusion-related investments in the region.
"I was excited to have the opportunity to learn about General Atomics' important work in fusion research. Hosting the largest magnetic fusion machine in the United States, San Diego plays an essential role in advancing fusion technology, which has the potential to revolutionize clean energy," said Mayor Todd Gloria.
"For decades, General Atomics has been a fixture of San Diego's innovation ecosystem. As a global leader in fusion research and technology, among other technologies key to our national security, the region must be committed to supporting the company's impact and workforce. We were excited to join Mayor Gloria today to learn more about GA's role in advancing this ultimate source of clean energy," said Mark Cafferty, President & CEO, San Diego Regional EDC.
DIII-D National Fusion Facility
Mayor Gloria's visit began at the DIII-D National Fusion Facility. DIII-D is an Office of Science user facility operated by General Atomics for the U.S. Department of Energy, with the mission of pioneering the science and innovative technology to enable the development of fusion as an energy source.
"DIII-D is the largest magnetic fusion research facility in the U.S. and one of the most flexible machines of its kind in the world. We have a unique ability to design and execute research campaigns that no other facility can," said Dr. Richard Buttery, Director of the DIII-D National Fusion Facility. "As the global fusion community sets its sights on delivering a fusion energy pilot plant, these capabilities will ensure the U.S. fusion program achieves its goals in the fastest, most cost-effective, and most collaborative way."
The heart of the DIII-D facility is a tokamak that uses powerful electromagnets to shape and confine plasma. To achieve fusion conditions relevant for energy production, DIII-D's plasma must be heated to temperatures exceeding 100 million degrees Celsius—approximately ten times the temperature at the center of the sun. At such extremely high temperatures, and under enormous pressures created by the electromagnets, hydrogen isotopes fuse together to create helium and release energy.
During the tour, the delegation observed a 100-million-degree plasma discharge from the control room and viewed the DIII-D tokamak and its unique measurement and diagnostic tools up close. The delegation learned about some of the recent modifications at DIII-D and plans for future upgrades to ensure the facility remains best positioned for serving the scientific community.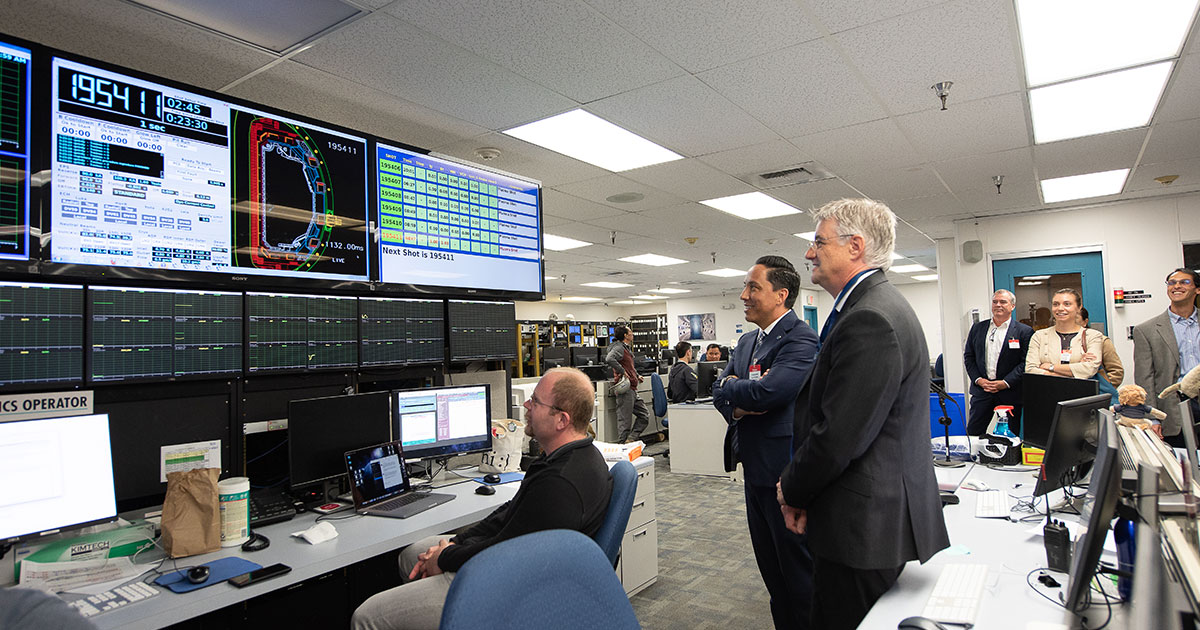 Inertial Fusion Technologies Laboratories
Following the visit to DIII-D, Mayor Gloria toured GA's inertial confinement fusion (ICF) laboratories, where he learned about GA's participation in the Science-based stockpile stewardship program and its contributions to the ground-breaking fusion ignition achieved at Lawrence Livermore National Laboratory (LLNL) last December.
During the LLNL experiment, 2.05 megajoules (MJ) of energy were delivered to a target assembly and produced 3.15 MJ of fusion energy output. The target components that were used in the historic experiment were produced and characterized at GA and provided to LLNL for the experiment.
General Atomics is a longstanding partner in the DOE National Nuclear Security Administration's (NNSA's) research in ICF, which is aimed at achieving a safe, secure, and effective nuclear deterrent without underground testing by producing thermonuclear burn conditions in the laboratory. In addition to being a significant milestone for the NNSA's mission, this result has positive implications for the commercialization of fusion energy using ICF techniques, referred to as Inertial Fusion Energy (IFE).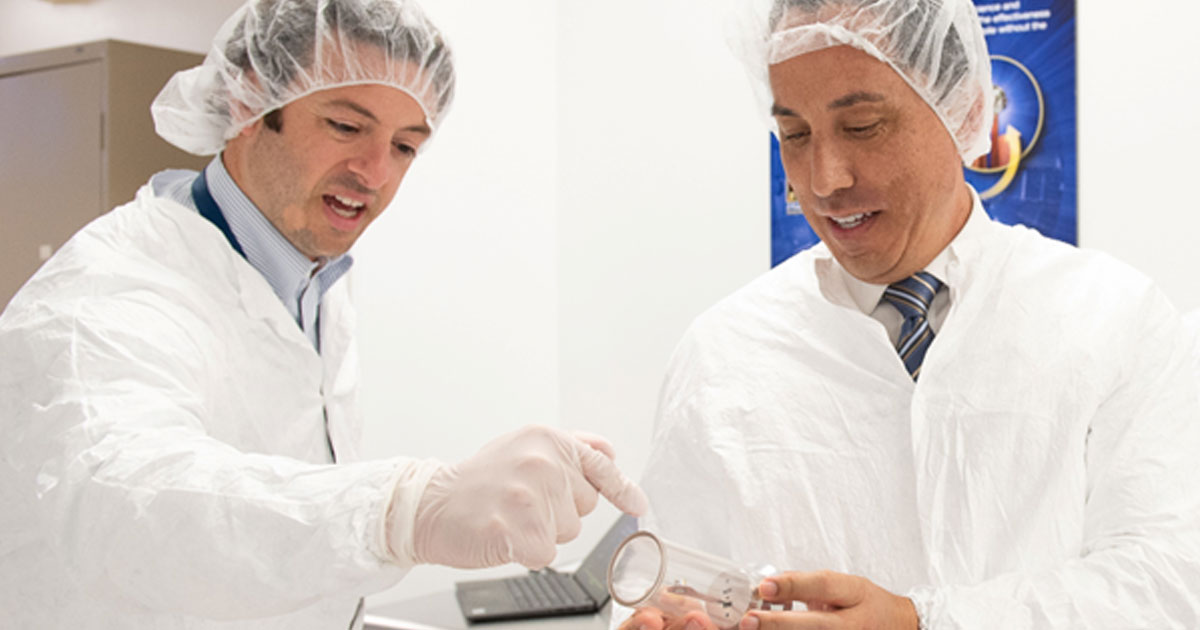 Accelerating Towards a Fusion Energy Pilot Plant
In a separate line of effort, GA recently announced its concept for a fully integrated fusion pilot plant (FPP) utilizing a steady-state, compact advanced tokamak design. By utilizing a steady-state approach, the GA FPP would maintain the plasma for long periods of time, which would maximize efficiency, reduce maintenance costs, and increase the lifespan of the facility.
"GA's fusion research programs were first established in San Diego in the 1950s. With a comprehensive portfolio of fusion technologies, services, and capabilities, we are proud to be leading the way to practical fusion energy," said Wayne Solomon, Vice President for Magnetic Fusion Energy. "Successfully designing, planning, and constructing one of the world's first FPPs will demonstrate the revolutionary potential of fusion."
About General Atomics: Since the dawn of the atomic age, General Atomics innovations have advanced the state of the art across the full spectrum of science and technology – from nuclear energy and defense to medicine and high-performance computing. Behind a talented global team of scientists, engineers, and professionals, GA's unique experience and capabilities continue to deliver safe, sustainable, economical, and innovative solutions to meet growing global demands.
About the DIII-D National Fusion Facility. DIII-D is the largest magnetic fusion research facility in the U.S. and has been the site of numerous pioneering contributions to the development of fusion energy science. DIII-D continues the drive toward practical fusion energy with critical research conducted in collaboration with more than 600 scientists representing over 100 institutions worldwide. As a U.S. Department of Energy, Office of Science User Facility, participation in DIII-D research is open to all interested parties. For more information, visit www.ga.com/diii-d.
For more information contact:
Evan Polisar
Strategic Communications Manager
858-455-3474
Evan.Polisar@ga.com