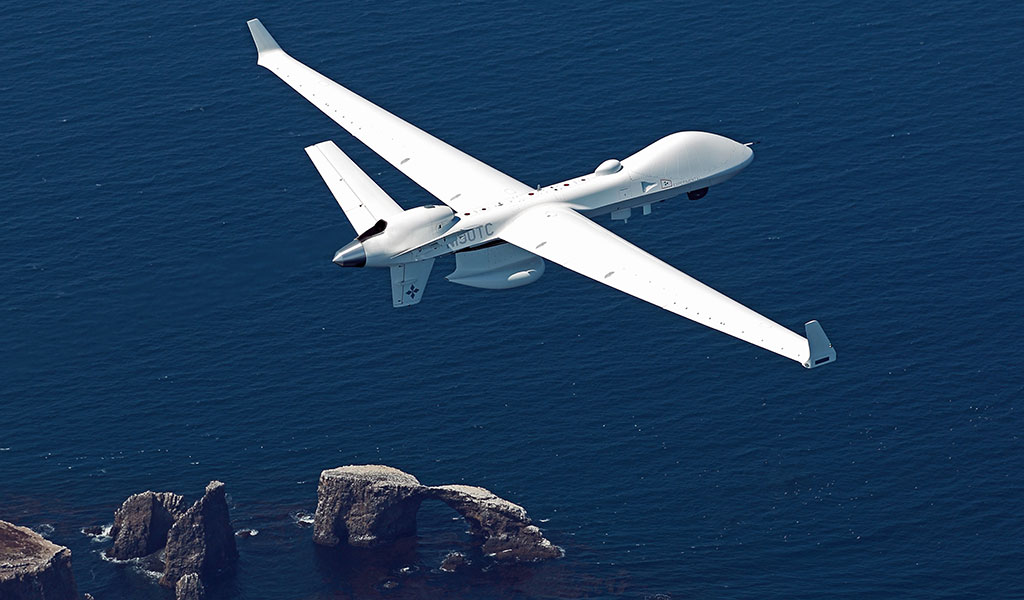 Raytheon Intelligence and Space Maritime Surveillance Systems Flight Tested on GA-ASI SeaGuardian for Japan Coast Guard
SAN DIEGO – 21 January 2021 – Japan's Coast Guard recently completed successful flight testing of Raytheon Intelligence & Space, a Raytheon Technologies business (NYSE: RTX), maritime surveillance technologies onboard a General Atomics Aeronautical Systems, Inc. (GA-ASI) SeaGuardian® Remotely Piloted Aircraft (RPA). RI&S provided its SeaVue Expanded Mission Capability (XMC) radar and AN/DAS-4 Multi-spectral Targeting System for the tests, which were conducted in the Hachinohe, Aomori Prefecture, Japan, between Oct. 15 and Nov. 10, 2020.
The tests validated the wide-area maritime surveillance systems support for the Japan Coast Guard to carry out missions for search and rescue, disaster response and maritime law enforcement.
"Our advanced intelligence, surveillance and reconnaissance solutions can aid the Japan Coast Guard to perform their duties effectively in alignment with Japan's maritime security priorities," said Barbara Borgonovi, vice president of Intelligence, Surveillance and Reconnaissance Systems for RI&S. "Through our partnership with GA-ASI, SeaVue XMC and DAS-4 contribute to SeaGuardian's critical role to help operators make decisions faster. Our wide-area surveillance technologies have proven track records that can be tailored to any mission in the maritime environment."
The SeaVue XMC radar provides enhanced wide-area surveillance by identifying targets of interest rapidly and efficiently, such as small maritime vessels. SeaVue MR delivers expanded capabilities including small-target detection at longer ranges and higher altitudes, and a software-defined digital architecture to add new functionality without changing hardware.
The DAS-4 sensor suite offers operators next-generation electro-optical surveillance in high-definition and full-motion video to identify and engage targets with pinpoint accuracy. The flight tests support the Japan Coast Guard's policy on Strengthening Maritime Security System. The policy calls for modernized maritime technologies to protect Japan's sovereignty.
About GA-ASI
General Atomics Aeronautical Systems, Inc. (GA-ASI), an affiliate of General Atomics, is a leading designer and manufacturer of proven, reliable Remotely Piloted Aircraft (RPA) systems, radars, and electro-optic and related mission systems, including the Predator® RPA series and the Lynx® Multi-mode Radar. With more than six million flight hours, GA-ASI provides long-endurance, mission-capable aircraft with integrated sensor and data link systems required to deliver persistent flight that enables situational awareness and rapid strike. The company also produces a variety of ground control stations and sensor control/image analysis software, offers pilot training and support services, and develops meta-material antennas. For more information, visit www.ga-asi.com.
Predator, Lynx, SeaGuardian and SkyGuardian are registered trademarks of General Atomics Aeronautical Systems, Inc.
About Raytheon Intelligence & Space
Raytheon Intelligence & Space delivers the disruptive technologies our customers need to succeed in any domain, against any challenge. A developer of advanced sensors, training, and cyber and software solutions, Raytheon Intelligence & Space provides a decisive advantage to civil, military and commercial customers in more than 40 countries around the world. Headquartered in Arlington, Virginia, the business generated $14 billion in pro forma annual revenue in 2019 and has 35,700 employees worldwide. Raytheon Intelligence & Space is one of four businesses that form Raytheon Technologies Corporation.
Media contact:
Tamar Brill, 571.535.0319, tamar.brill@rtx.com
For more information contact:
GA-ASI Media Relations
General Atomics Aeronautical Systems, Inc.
+1 (858) 524-8108
ASI-MediaRelations@ga-asi.com