MQ-9B Provisioned for GPS and Galileo Satellite Navigation Systems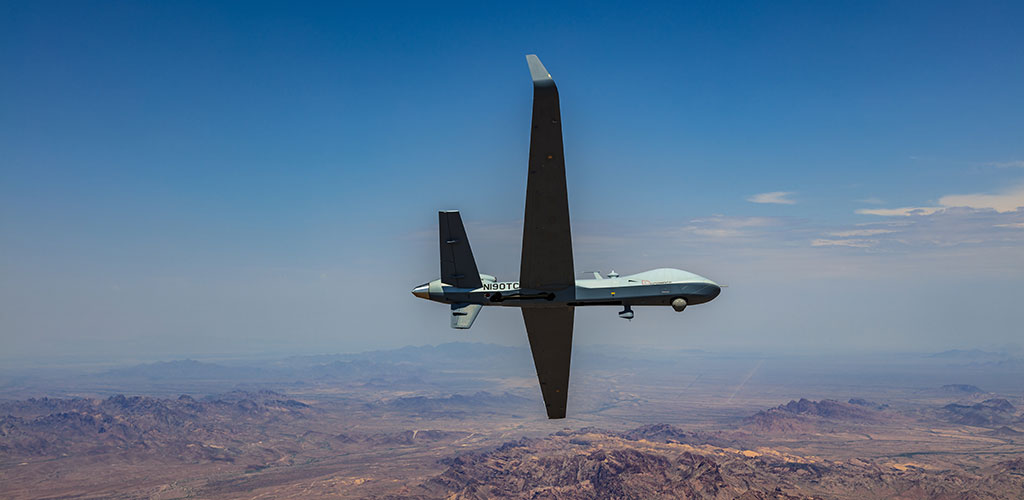 FARNBOROUGH AIRSHOW – 16 June 2018 – In an effort to increase flexibility for its customers throughout the world, General Atomics Aeronautical Systems, Inc. (GA‑ASI) announced today that MQ-9B will be able to utilize both the U.S. Global Positioning System (GPS) and European Galileo satellite constellation for its navigation systems. The baseline MQ-9B was originally designed to include a triplex navigation system based on GPS navigation however, provisions have been added to the navigation receiver to support the Galileo navigation system as well.
"Many of our U.S. and international partners have plans to produce multi-constellation navigation receivers," said David R. Alexander, president, Aircraft Systems, GA-ASI. "The multi-constellation receivers will add to the operational flexibility of the MQ-9B and will benefit our international and domestic customers, especially those based in Europe."
Galileo is the Global Navigation Satellite System created by the European Union through the European Space Agency. GA-ASI believes having multiple satellite options is important to customers who will want to be able to switch from one constellation to another in the event connectivity is ever lost or denied.
MQ-9B is the latest evolution of GA-ASI's multi-mission Predator® B fleet. GA-ASI named its baseline MQ-9B aircraft SkyGuardian and the maritime surveillance variant is called SeaGuardian. MQ-9B is a "certifiable" (STANAG 4671) version of the company's MQ-9 Predator B product line. Its development is the result of a five-year company-funded effort to deliver a RPA that can meet the stringent airworthiness certification requirements of various military and civil authorities, including the UK Military Airworthiness Authority (MAA) and the U.S. FAA.
A weaponized variant of the system is being acquired by the UK Royal Air Force (RAF) under the PROTECTOR RG Mk1 programme.
High-resolution photos of MQ-9B are available to qualified media outlets from the listed GA-ASI media contact. For more information about SkyGuardian's trans-Atlantic flight July 10-11, 2018, go to http://www.ga-asi.com/trans-atlantic-flight.
About GA-ASI
General Atomics Aeronautical Systems, Inc. (GA-ASI), an affiliate of General Atomics, is the leading designer and manufacturer of proven, reliable Remotely Piloted Aircraft (RPA) systems, radars, and electro-optic and related mission systems, including the Predator® RPA series and the Lynx® Multi-mode Radar. With more than five million flight hours, GA-ASI provides long-endurance, mission-capable aircraft with integrated sensor and data link systems required to deliver persistent flight that enables situational awareness and rapid strike. The company also produces a variety of ground control stations and sensor control/image analysis software, offers pilot training and support services, and develops meta-material antennas. For more information, visit www.ga-asi.com.
Predator, and Lynx are registered trademarks of General Atomics Aeronautical Systems, Inc.
For more information contact:
Melissa Haynes
General Atomics Aeronautical Systems, Inc.
+1 (858) 524-8108
ASI-MediaRelations@ga-asi.com