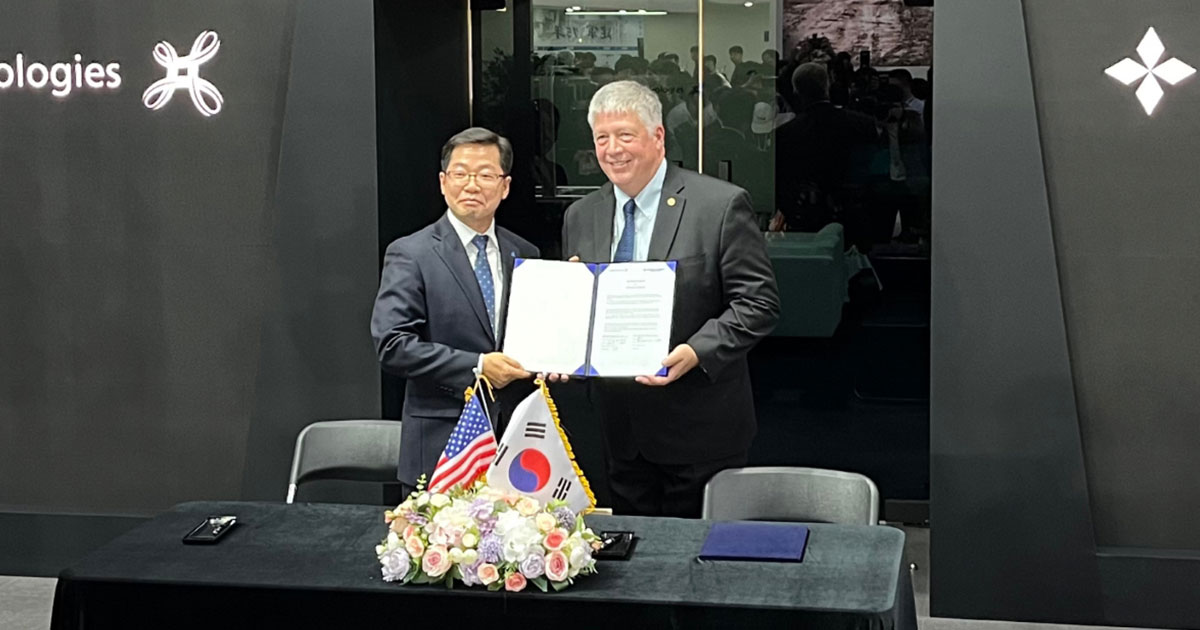 Huneed Technologies Signs MOU to Supply Flat Panel Array to GA-ASI
SAN DIEGO – 19 October 2023 – During a ceremony at ADEX (Seoul International Aerospace & Defense Exhibition) on Oct. 18, 2023, General Atomics Aeronautical Systems, Inc. (GA-ASI) signed a Memorandum of Understanding (MOU) with Huneed Technologies for the Korean company to produce a flat panel array for GA-ASI's Lynx® and Eagle-Eye Multi-mode Radar systems. The Lynx radar is used on several models of GA-ASI's line of Unmanned Aircraft Systems, including the MQ-9A Reaper and MQ-20 Avenger®, while Eagle-Eye is featured on MQ-1C Gray Eagle Extended Range (ER) and 25M models. Huneed's flat panel array technology will be incorporated into a new common radar antenna subsystem for GA-ASI's radar products.
Huneed Technologies, a global aerospace and defense company that specializing in tactical communication and avionics equipment, has been a long-time partner of GA-ASI. In 2022, Huneed was contracted to supply Circuit Card Assemblies for GA-ASI's line of unmanned aircraft. Huneed signed its first MOU with GA-ASI in 2017, and in 2021 the MOU was renewed.
"Huneed is Korea's leading defense and aviation company with a long track record of establishing successful business relationships with a number of global OEMs in the aerospace industry. Huneed possesses advanced processes and production capabilities to join our global supply chain, and we appreciate Huneed's long-term partnership," said Jaime Walters, vice president of International Strategic Development at GA-ASI.
GA-ASI is manufacturer of UAS operated by the U.S. and international partners as an intelligence-gathering and strike-capable asset. GA-ASI has delivered more than 1,000 unmanned aircraft since its founding in 1992 and its aircraft have flown over 8 million hours. GA-ASI's newest and most advanced aircraft, the MQ-9B SkyGuardian® and SeaGuardian®, are tailored to meet the multi-domain and multi-environmental needs of its customers.
Huneed's Chairman Eugene Kim said: "Unmanned technology is crucial for global security, safeguarding pilots while improving battlefield monitoring. Partnering with GA-ASI showcases Huneed's capabilities, and we are dedicated to demonstrating excellence in our contributions."
About GA-ASI
General Atomics Aeronautical Systems, Inc. (GA-ASI), an affiliate of General Atomics, is a leading designer and manufacturer of proven, reliable RPA systems, radars, and electro-optic and related mission systems, including the Predator® RPA series and the Lynx® Multi-mode Radar. With more than eight million flight hours, GA-ASI provides long-endurance, mission-capable aircraft with integrated sensor and data link systems required to deliver persistent situational awareness. The company also produces a variety of sensor control/image analysis software, offers pilot training and support services, and develops meta-material antennas.
For more information, visit www.ga-asi.com





Avenger, Lynx, Predator, SeaGuardian, and SkyGuardian are registered trademarks of General Atomics Aeronautical Systems, Inc.