Gray Eagle Model Featured in New Army Museum
Donation Follows $50,000 Pledge to Support NMUSA
SAN DIEGO – 11 April 2019 – A one-fifth-scale model of the MQ-1C Gray Eagle Unmanned Aircraft System (UAS) now hangs from the ceiling of the new National Museum of the United States Army (NMUSA). The model was donated by Gray Eagle developer General Atomics Aeronautical Systems, Inc. (GA-ASI) and follows the $50,000 cash donation the company pledged to the Museum in 2018. The NMUSA is being readied for its official public opening in 2020.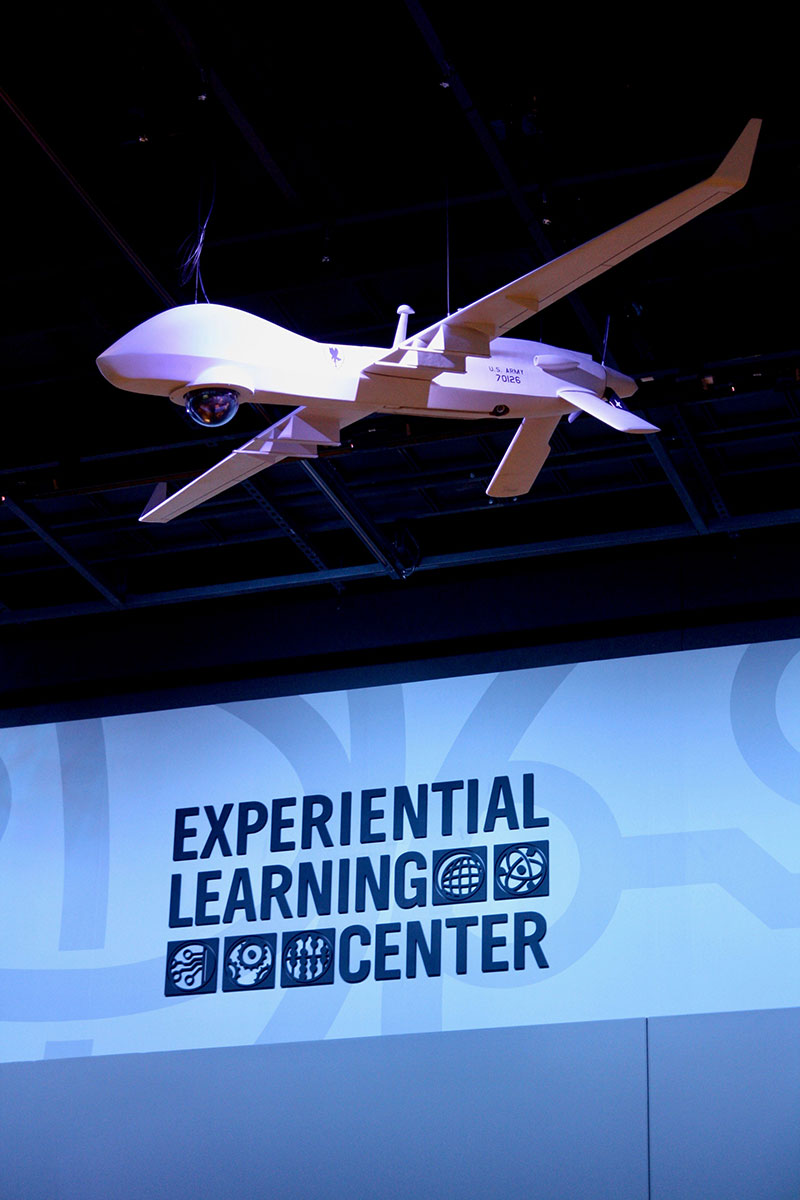 The Gray Eagle model will be featured in the Museum's Experiential Learning Center's (ELC's) "Observe and Report" interactive learning station to highlight Army achievements in communications and reconnaissance. It will provide students with activities that stress the importance of secure, accurate and advanced intelligence gathering for Soldiers as part of a simulated natural disaster assistance mission called Operation: Safe Passage.
"At GA-ASI, we are proud that our MQ-1C Gray Eagle UAS is the Army's most active kinetic platform in theater," said David R. Alexander, president, GA-ASI. "We are pleased to partner with the Army Historical Foundation [AHF] to educate the Museum's ELC visitors on how this technology supports Soldier survivability and success."
GA-ASI presented its cash donation to NMUSA in a ceremony at last October's Association of the U.S. Army's (AUSA's) Annual Meeting and Exposition at the Washington Convention Center. Its contribution places the company in the Museum's One-Star Circle of Distinction.
"GA-ASI technology is supporting our Soldiers in the field every day. This Gray Eagle model will show Museum visitors why continuing advances in technology are so important for our Soldiers and how the advances help them get the job done," said General Gordon R. Sullivan (USA-Ret.), AHF Chairman. "GA-ASI's commitment to the Army's Museum reinforces the message that industry and the Army work hand-in-hand in supporting our nation and our Soldiers."
Hi-resolution photos of MQ-1C are available to qualified media outlets from the listed GA-ASI media contact.
About GA-ASI
General Atomics Aeronautical Systems, Inc. (GA-ASI), an affiliate of General Atomics, is the leading designer and manufacturer of proven, reliable Remotely Piloted Aircraft (RPA) systems, radars, and electro-optic and related mission systems, including the Predator® RPA series and the Lynx® Multi-mode Radar. With more than five million flight hours, GA-ASI provides long-endurance, mission-capable aircraft with integrated sensor and data link systems required to deliver persistent flight that enables situational awareness and rapid strike. The company also produces a variety of ground control stations and sensor control/image analysis software, offers pilot training and support services, and develops meta-material antennas. For more information, visit www.ga-asi.com.
Predator and Lynx are registered trademarks of General Atomics Aeronautical Systems, Inc.
For more information contact:
GA-ASI Media Relation
General Atomics Aeronautical Systems, Inc.
+1 (858) 524-8108
ASI-MediaRelations@ga-asi.com