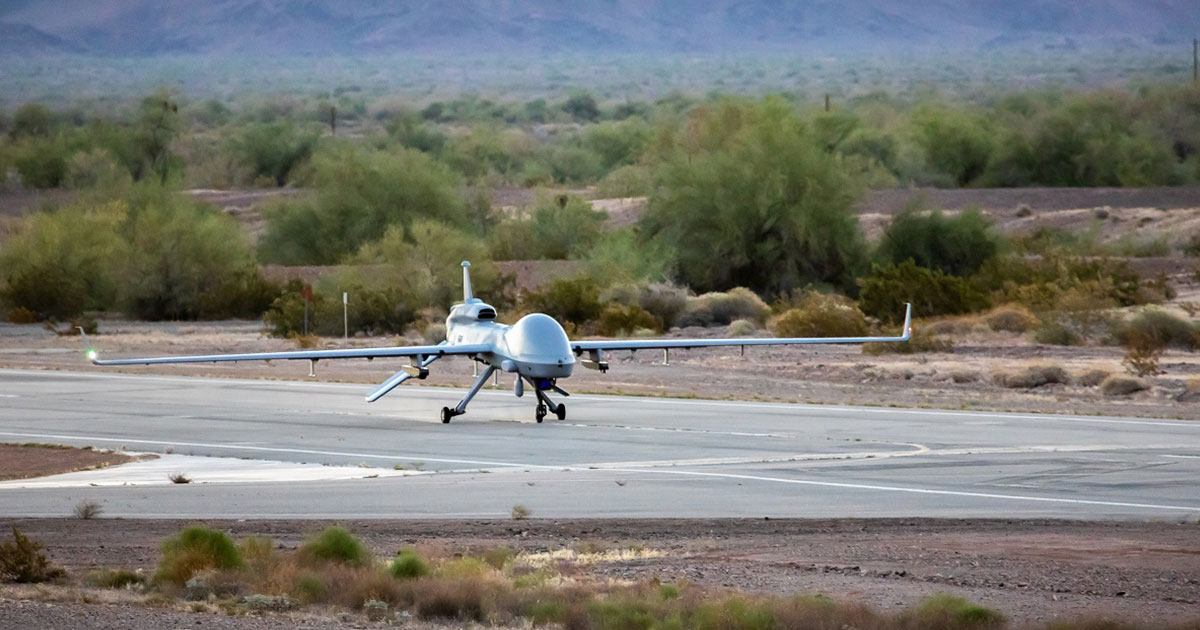 Gray Eagle-Extended Range UAS Upgraded for Multi-Domain Operations
GA-ASI and US Army Enhancing Capabilities for 2 GE-ERs
SAN DIEGO – 04 April 2022 – In February, General Atomics-Aeronautical Systems, Inc. (GA-ASI) began the first installation of factory upgrades to a Gray Eagle-Extended Range (GE-ER) Unmanned Aircraft System to enhance its capabilities to support Multi-Domain Operations (MDO). The U.S. Army-funded program includes two aircraft. Flight test and qualification will start later this year.
"We're pleased to be working with our Army customer to increase relevance and capabilities of the GE-ER platform for the MDO environment," said Don Cattell, vice president for Army Programs. "These efforts ensure the Army's premier UAS is better able to support advanced teaming operations with manned and other unmanned platforms, which will further its capabilities and ensure mission success. We are fully committed to our Army partnersto make sure our proven GE-ER is equipped for its role as the designated platform for long-range sensors and Air Launched Effects (ALEs)."
The new GE-ER configuration combines investment from the Army and GA-ASI to create the most advanced Class IV UAS available today. GA-ASI worked with the Army to demonstrate MDO capabilities on the Gray Eagle ER at Yuma Proving Grounds, which included fully integrated, internally mounted long-range sensors, ALEs, and laptop-based and handheld control interfaces. The Modernized GE-ER incorporates open architecture aircraft and ground systems, advanced datalinks, and an upgraded propulsion system, significantly enhancing the ability to add new capabilities, provide resilience to electronic threats and expeditionary employment to austere locations.
The MDO upgrade follows a series of demonstrations that showcased GE-ER's persistent stand-off survivability with stand-in capabilities and up to 40 hours of endurance that commanders can leverage in the MDO environment. GA-ASI partnered with industry to integrate best-of-breed long-range payloads and ALEs on the GE-ER, increasing the survivability and mission success of its manned aviation teammates.
About GA-ASI
General Atomics-Aeronautical Systems, Inc. (GA-ASI), an affiliate of General Atomics, is a leading designer and manufacturer of proven, reliable, remotely piloted aircraft (RPA) systems, radars, and electro-optic and related mission systems, including the Predator® RPA series and the Lynx® Multi-mode Radar. With more than seven million flight hours, GA-ASI provides long-endurance, mission-capable aircraft with integrated sensor and data link systems required to deliver persistent flight that enables situational awareness and rapid strike. The company also produces a variety of ground control stations and sensor control/image analysis software, offers pilot training and support services, and develops meta-material antennas. For more information, visit www.ga-asi.com


Avenger, Lynx, Predator, SeaGuardian and SkyGuardian are registered trademarks of General Atomics Aeronautical Systems, Inc.