General Atomics Open House at Innovate ABQ Expands Business, Technology Efforts in Region
New Office Provides Support for Collaboration, Growth
SAN DIEGO, CA, 26 FEB 2018 – General Atomics Electromagnetic Systems (GA-EMS) announced today that it held an open house event to commemorate the organization's new facility located in Innovate ABQ Lobo Rainforest in downtown Albuquerque, New Mexico. Attending the event and providing brief remarks were Sen. Martin Heinrich, Rep. Michelle Lujan Grisham, and Mayor Tim Keller. The new office will support and expand GA-EMS business and technology development activities in the region.
"The Innovate ABQ complex is centered in a community with a concentration of science and technology expertise, and a rich history of innovation that is highly complementary to our growing portfolio of technologies and products," stated Scott Forney, president of GA-EMS. "We're looking forward to continuing our work with the community to strengthen existing relationships and foster new opportunities for collaboration, as we advance critical energy, directed energy, and electric weapon systems and technologies for defense applications."
"General Atomics is a national leader in the private sector for many of the technologies that Air Force Research Laboratory and Sandia work on to keep our nation safe," said Senator Heinrich. "I'm proud to welcome General Atomics to Innovate ABQ and am excited to see the opportunities created through this model of close collaboration between the federal government, its contractors, and the talent pipeline and research expertise of New Mexico's universities. This is another exciting step forward for the next generation of New Mexico innovators and entrepreneurs."
The office will provide GA-EMS with a more direct link to a growing community of contractors, entrepreneurs, and laboratories located in the Albuquerque area, including the Air Force Research Laboratory, Sandia National Laboratories, and Los Alamos National Laboratory. The University of New Mexico spearheaded the collaboration and development of Innovate ABQ, connecting the local research community and private and government resources to create a center of innovation and economic development designed to foster job growth and entrepreneurship within the community.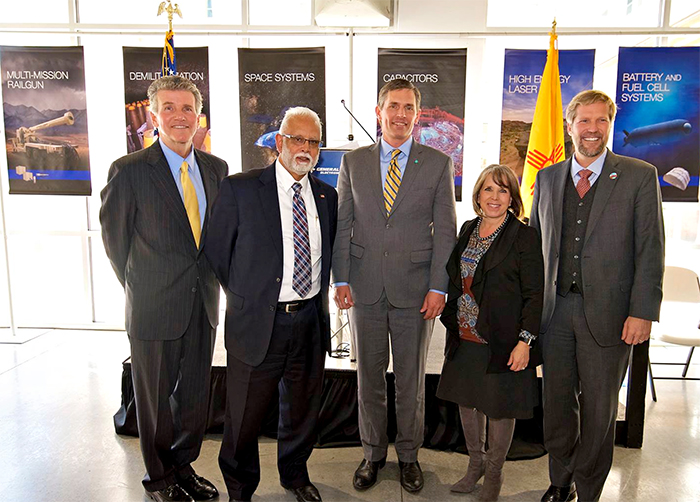 General Atomics Open House
February 22, 2018
Innovate ABQ Lobo Rainforest Facility
L to R: Dr. Robert Peterkin, Albuquerque director of operations, GA-EMS; Mr. Robert Khan,
senior vice president and chief operating officer, GA-EMS; Sen. Martin Heinrich (D-NM);
Rep. Michelle Lujan Grisham (D-NM); and Mayor Tim Keller (D).
About General Atomics Electromagnetic Systems
General Atomics Electromagnetic Systems (GA-EMS) Group is a global leader in the research, design, and manufacture of first-of-a-kind electromagnetic and electric power generation systems. GA-EMS' history of research, development and technology innovation has led to an expanding portfolio of specialized products and integrated system solutions supporting aviation, space systems and satellites, missile defense, power and energy, and processing and monitoring applications for critical defense, industrial, and commercial customers worldwide.
For further information contact:
EMS-MediaRelations@ga.com