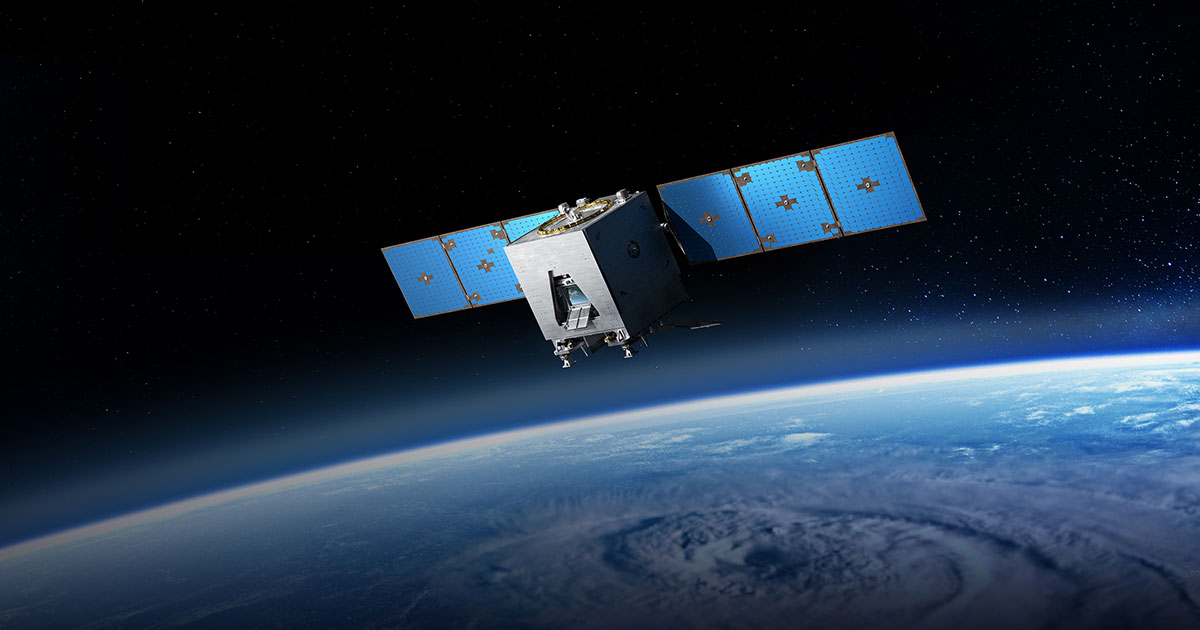 GA-EMS Awarded Contract for USSF Weather Satellite Program Prototype
SAN DIEGO – 07 Mar 2022 - General Atomics Electromagnetic Systems (GA-EMS) announced today that the U.S. Space Force (USSF) Space Systems Command has elected to exercise a follow-on option that will ultimately provide a prototype weather satellite that can produce operational data as part of the Electro-Optical Infrared (EO/IR) Weather System (EWS) satellite program. GA-EMS will deliver the EWS spacecraft with an integrated EO/IR payload along with on-orbit mission control and data collection services to support the mission. EWS will support the transition from the Defense Meteorological Support Program (DMSP) on-orbit systems to a new generation of affordable, high performance, small weather satellites. Satellite launch is anticipated in 2024.
"We have been under contract since late 2020 to develop an integrated EWS satellite system design that will provide the USSF with increased capabilities to collect critical global weather imagery and data to support the warfighter," said Scott Forney, president of GA-EMS. "Today's announcement is testament to our entire team's dedication to completing a high-fidelity design in a very short time. EWS is more than a demonstrator. The system will provide three-to-five years of on-orbit operational capabilities to help the USSF fill EO/IR data gaps as the legacy DMSP satellites are retired."
As the prime contractor, GA-EMS has assembled a highly experienced, best-in-class team to successfully deliver the EWS satellites. The team includes EO Vista, LLC to provide the EO/IR weather sensor payload, Atmospheric and Environmental Research (AER) Inc. for weather product expertise, and Parsons Corporation (NYSE:PSN) to provide Enterprise Ground Station command and control and operations support.
"This award is a tremendous win for us and comes right on the heels of our successfully completing the Final Design Review milestone," said Gregg Burgess, vice president of GA-EMS Space Systems. "We now look forward to completing the work already underway to deliver the next generation of on-orbit weather data collection technologies and high-resolution imagery, data products and services to support EWS Program mission requirements. Our goal is to be a USSF mission partner for the long haul, providing capabilities critical to ensuring that reliable and timely weather prediction data is available to support military decision makers worldwide. The team we have assembled is well positioned to manufacture the EWS satellites at the production rates sufficient to meet the USSF weather information refresh requirements."
About General Atomics Electromagnetic Systems
General Atomics Electromagnetic Systems (GA-EMS) Group is a global leader in the research, design, and manufacture of first-of-a-kind electromagnetic and electric power generation systems. GA-EMS' history of research, development, and technology innovation has led to an expanding portfolio of specialized products and integrated system solutions supporting aviation, space systems and satellites, missile defense, power and energy, and processing and monitoring applications for critical defense, industrial, and commercial customers worldwide. For further information, visit www.ga.com/ems
Media Contact
EMS-MediaRelations@ga.com