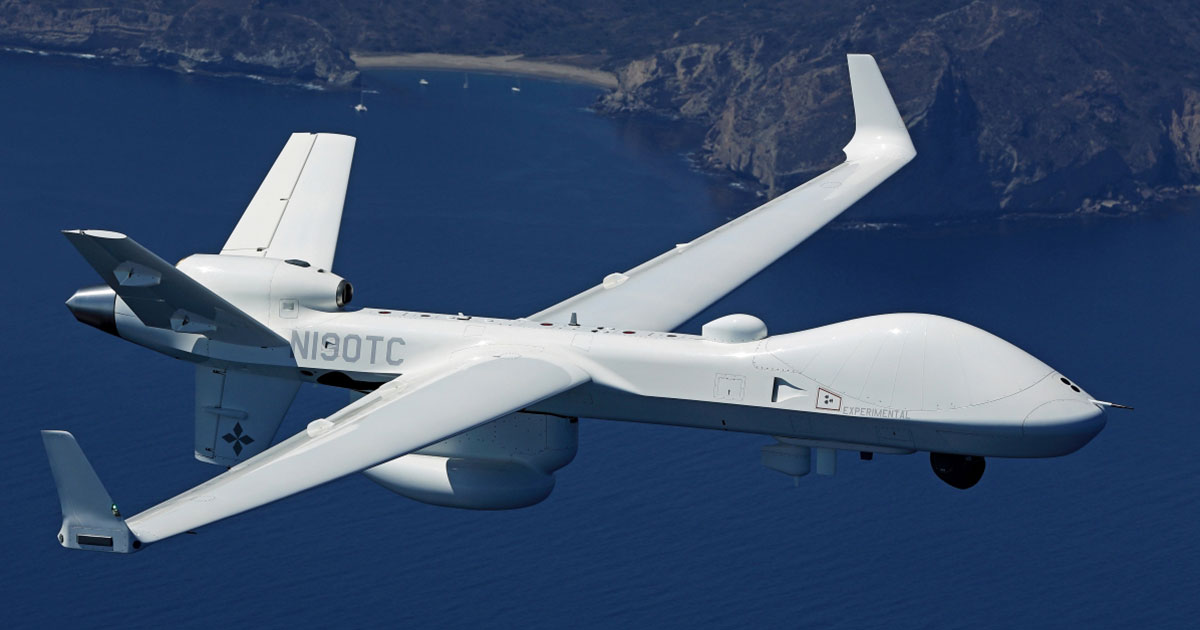 GA-ASI Display at UMEX Features SeaGuardian UAS
SAN DIEGO – 19 February 2022 – In response to strong global and regional interest in the MQ-9B line of Unmanned Aircraft Systems, General Atomics Aeronautical Systems, Inc. (GA-ASI) will feature an actual SeaGuardian® UAS as part of its stand display for the upcoming Unmanned System Exhibition and Conference (UMEX). This fifth edition of UMEX will be held at the Abu Dhabi National Exhibition Center Feb. 21-23, 2022. GA-ASI's stand location for UMEX is 03-A20.
"SeaGuardian is a UAS that provides persistent multi-domain situational awareness over land, sea and undersea, which is vital to our partners in the Middle East region," said GA-ASI Vice President of International Strategic Development Robert Schoeffling. "SeaGuardian is a critical security tool and GA-ASI is proud to build on our long-term relationship with the UAE by putting the aircraft on display at UMEX."
The UAE government is interested in procuring MQ-9B to support their national security and defense.
SeaGuardian is the maritime version of GA-ASI's MQ-9B SkyGuardian®. SeaGuardian and SkyGuardian share many operational capabilities, including a Detect and Avoid System (DAAS), industry-leading endurance and interoperability with allied partners. What differentiates SeaGuardian is its advanced maritime Intelligence, Surveillance and Reconnaissance (ISR) capability, which features a multi-mode maritime surface-search radar with Inverse Synthetic Aperture Radar imaging mode, an Automatic Identification System (AIS) receiver, Anti-Submarine Warfare (ASW) capabilities, and a High-Definition, Full-Motion Video sensor equipped with optical and infrared cameras.
The same SeaGuardian aircraft on display at UMEX was used several months ago as part of a five-week demonstrations series with the Royal Air Force. The flights showcased SeaGuardian's array of maritime capabilities, including ASW tasking and manned-unmanned teaming with an RAF P-8 aircraft. The UAS flew extensively in UK-controlled airspace, building the foundation for acceptance of unmanned aircraft operating routinely in unsegregated airspace.
In addition to the maritime patrol radar, AIS and ASW capabilities, the SeaGuardian includes an Electronic Support Measures (ESM) payload that is integrated into the aircraft's winglets. The ESM payload provides detection, identification, and geolocation of RF emitters and is valuable for long-range ISR missions.
About GA-ASI
General Atomics-Aeronautical Systems, Inc. (GA-ASI), an affiliate of General Atomics, is a leading designer and manufacturer of proven, reliable remotely piloted aircraft (RPA) systems, radars, and electro-optic and related mission systems, including the Predator® RPA series and the Lynx® Multi-mode Radar. With more than seven million flight hours, GA-ASI provides long-endurance, mission-capable aircraft with integrated sensor and data link systems required to deliver persistent flight that enables situational awareness and rapid strike. The company also produces a variety of ground control stations and sensor control/image analysis software, offers pilot training and support services, and develops meta-material antennas. For more information, visitwww.ga-asi.com


Avenger, Lynx, Predator, SeaGuardian and SkyGuardian are registered trademarks of General Atomics Aeronautical Systems, Inc.