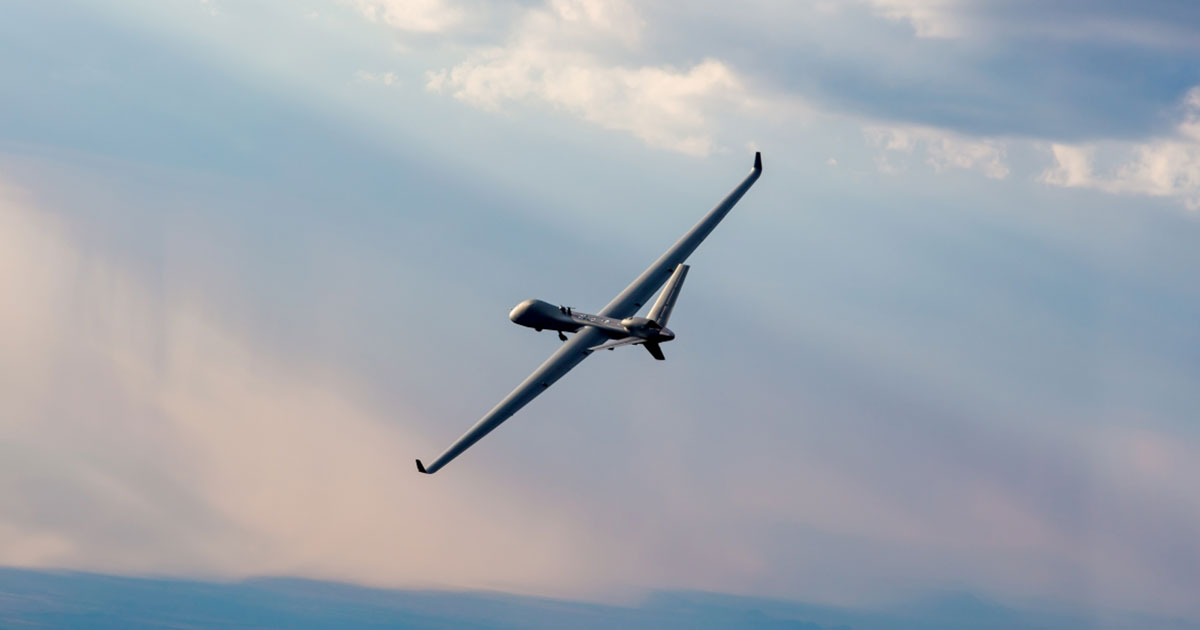 GA-ASI Partners with Ramco for SkyGuardian Global Support Solutions
Sustainment Program to Leverage Ramco's ERP for MRO Services
SAN DIEGO – 1 September 2022 – SkyGuardian® Global Support Solutions (SGSS), a sustainment program introduced by General Atomics Aeronautical Systems, Inc. (GA-ASI) in 2021, announces a new partnership with Ramco Systems. As part of the partnership, Ramco will provide its Enterprise Resource Planning (ERP) software platform for Maintenance Repair & Overhaul (MRO) services to support MQ-9B SkyGuardian and SeaGuardian® Remotely Piloted Aircraft (RPA) systems. Ramco Aviation MRO Suite delivers end-to-end support of MRO requirements for MQ-9B systems, which includes line, component, engine, hangar, and OEM aftermarket services.
"Ramco's technology leads the industry by providing a turnkey solution for digitizing MRO operations, enhancing turnaround times (TAT), improving customer satisfaction, service level compliance, on-time delivery, and management of other complex business processes," said GA-ASI Vice President of Sustainment Sam Richardson.
Ramco's 25 years of aviation expertise brings the best industry MRO digital management practices to SkyGuardian and SeaGuardian users.
"Securing the trust of a world leader in unmanned aerial systems is a landmark achievement for Ramco. Ramco's deep aviation functionality built over the last 25 years, and complemented by next-gen, innovative features, will optimize the operational efficiency of the SkyGuardian program. We are elated to be a part of this paramount MQ-9B program," said President Ramco Systems Corporation, USA & Chief Customer Officer – Aviation, Aerospace & Defense, Ramco Systems, Manoj Kumar Singh.
The SGSS program supports GA-ASI customers operating the MQ-9B. The program provides operators with full-sustainment solutions allowing maximum system availability, commonality, and complete training services. The SGSS lowers lifecycle costs for customers by leveraging the cost of sustainment across all MQ-9B customers. The plan merges resources, especially for regional operators, to create synergies in procurement, management, and depot repairs. This "Consolidated Fleet" approach for SkyGuardian operators provides collective buying power that incentivizes suppliers and subcontractors to create long-term contractual arrangements and innovative solutions to increase customer support and cost savings that are passed down to the customer. MQ-9B customers, operating large or small fleets, collectively realize significant life-cycle cost savings.
About GA-ASI
General Atomics Aeronautical Systems, Inc. (GA-ASI), an affiliate of General Atomics, is a leading designer and manufacturer of proven, reliable remotely piloted aircraft (RPA) systems, radars, and electro-optic and related mission systems, including the Predator® RPA series and the Lynx® Multi-mode Radar. With more than seven million flight hours, GA-ASI provides long-endurance, mission-capable aircraft with integrated sensor and data link systems required to deliver persistent flight that enables situational awareness and rapid strike. The company also produces a variety of ground control stations and sensor control/image analysis software, offers pilot training and support services, and develops meta-material antennas. For more information, visit www.ga-asi.com


Avenger, Lynx, Predator, SeaGuardian and SkyGuardian are registered trademarks of General Atomics Aeronautical Systems, Inc.
About Ramco Aviation
Ramco Aviation Software is trusted by 24,000+ users to manage 4,000+ aircraft globally. With 80+ Aviation organizations onboard, Ramco is the solution of choice for top heli-operators, leading defense companies, space launch vehicles, UAS/Drones, eVTOL and multiple MROs around the world. Available on cloud and mobile, Ramco Aviation Software provides accessibility with 'Anywhere Apps', significantly reducing transaction time both during aircraft-on-ground (AOG) conditions and critical aircraft turnarounds. Ramco is changing the paradigm of enterprise software with Artificial Intelligence based solutions, powered by cool new features such as digital task cards, offline capability, chatbots, mail bots, HUBs and cognitive solutions.
For more information, please visit https://www.ramco.com/products/aviation-software/
Follow Ramco on Twitter @RamcoSystems / @RamcoAviation and stay tuned to https://www.ramco.com/blog