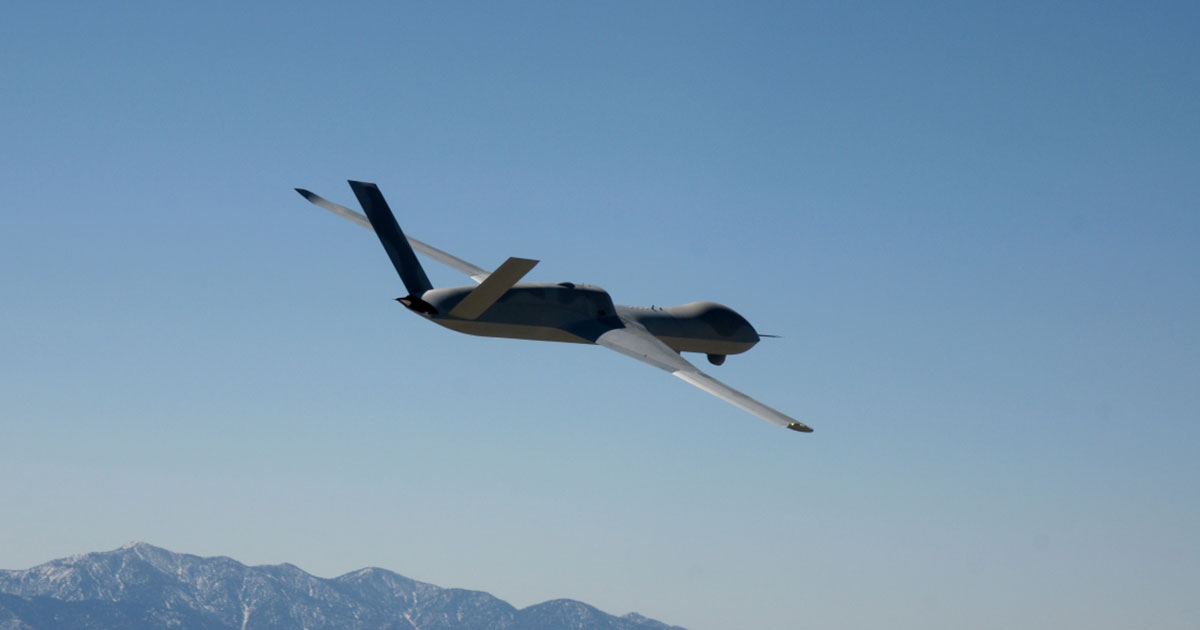 GA-ASI Pairs Avenger with Virtual UAS to Demo Autonomous Search and Follow
SAN DIEGO – 25 February 2022 – As part of the company's commitment to develop advanced unmanned autonomy, General Atomics Aeronautical Systems, Inc. (GA-ASI) used a company-owned Avenger® Unmanned Aircraft System and five hardware-in-the-loop synthetic Avengers to autonomously search and follow an artificially-generated adversary. The live-virtual swarm utilized a simulated Infrared Search and Track (IRST) sensor network in addition to the government-furnished CODE autonomy engine to accomplish the mission.
In the two-hour flight on January 28, 2022, the Avenger flew over the high desert of southern California. The live Avenger was commanded into a search mission with the five simulated Avengers. Once the simulated adversary entered the designated search area, the team of Avengers would decide, utilizing an AI/ML algorithm, which aircraft would autonomously break from the search-loiter and perform complex behaviors to show closed loop, air-to-air tactics.
"The flight demonstrated GA-ASI's unique ability to deploy autonomy using a blend of simulated threats, real-world sensors, and live aircraft. GA-ASI's robust autonomy pipeline provided seamless digital environments, UAV digital twins and machine learning to validate unmanned aircraft closing complex kill chains. This framework allows the DoD to rapidly transition next-generation, operationally relevant air-to-air warfare technology from the lab to the battlespace," said GA-ASI Senior Director of Advanced Programs Michael Atwood.
The Avenger UAS integrated a ZPX-R ADS-B and Mode 5 Level 2 receiver provided by uAvionix. The low size, weight, and power (SWAP) sensor allowed the platform to track active aircraft within the local airspace. In addition to the live ADS-B/Mode 5 L2 sensor tracks being downlinked, the Advanced Framework for Simulation, Integration, and Modeling (AFSIM) software simulated two separate types of IRST sensors (situational and long-range). This allowed the multi-physics sensor network to downlink into the Common Operating Picture (COP) running on a government standard Human-Machine Interface. To complement the live-flying sensor suite, the Avenger also operated with All-Source Track and Identity Fuser (ATIF), a government-owned Multi-Physics Fusion engine.
About GA-ASI
General Atomics-Aeronautical Systems, Inc. (GA-ASI), an affiliate of General Atomics, is a leading designer and manufacturer of proven, reliable remotely piloted aircraft (RPA) systems, radars, and electro-optic and related mission systems, including the Predator® RPA series and the Lynx® Multi-mode Radar. With more than seven million flight hours, GA-ASI provides long-endurance, mission-capable aircraft with integrated sensor and data link systems required to deliver persistent flight that enables situational awareness and rapid strike. The company also produces a variety of ground control stations and sensor control/image analysis software, offers pilot training and support services, and develops meta-material antennas. For more information, visit www.ga-asi.com


About uAvionix Corporation
uAvionix was founded with the mission of bringing safety solutions to the unmanned aviation industry in order to aid in the integration of Unmanned Aircraft Systems (UAS) into National Airspace Systems (NAS). uAvionix offers low size, weight, and power (SWaP) TSO certified and uncertified avionics for General Aviation (GA), Airport Surface Vehicles and UAS markets. The team consists of an unparalleled engineering and management team with a unique combination of experience within avionics, surveillance, airport services, UAS aircraft development, radio frequency (RF), and semiconductor industries. To learn more about uAvionix manned and unmanned products, please visit: www.uavionix.com
Avenger, Lynx, Predator, SeaGuardian and SkyGuardian are registered trademarks of General Atomics Aeronautical Systems, Inc.