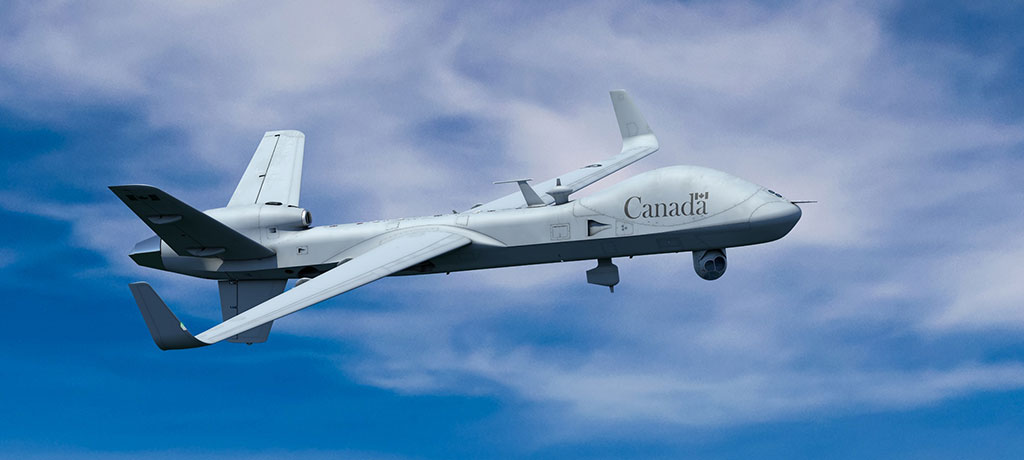 GA-ASI Integrating L3 WESCAM's MX™-20 onto Multiple Platforms as Part of Team SkyGuardian Canada
OTTAWA – 29 May 2019 – As members of Team SkyGuardian Canada and supporters of the MQ-9B SkyGuardian Remotely Piloted Aircraft System (RPAS) for Canada's RPAS Project, L3 WESCAM and General Atomics Aeronautical Systems, Inc. (GA-ASI) are integrating WESCAM's MX™-20 electro-optical and infrared (EO/IR) imaging system onto the SkyGuardian RPAS, as well as the MQ-9 Reaper that is currently being operated by several NATO countries. Team SkyGuardian Canada is a coalition of Canadian companies committed to delivering the best RPAS for Canada.
Field-proven, with extensive deployment, WESCAM's MX-20 is equipped with high-sensitivity multi-spectral sensors for day, low-light and nighttime missions, and offers low-risk "plug-and-play" installation. The MX-20 operates with detection and recognition capabilities at high altitudes in support of persistent surveillance missions.
"Integrating capabilities from L3 WESCAM and our other Team SkyGuardian partners – CAE and MDA – provides the most capable RPAS solution and the best economic value for Canada," said Linden Blue, CEO, GA-ASI. "The MX-20 integration on MQ-9 builds on our successful integration of the WESCAM MX-15 onto our Predator XP aircraft. Taking advantage of our close North American relationship, our companies can cooperate to provide unprecedented levels of innovation and business opportunity with our RPAS."
GA-ASI has been proactive in integrating L3 WESCAM products onto their RPAS. "Team SkyGuardian is a significant benefit to L3 WESCAM and provides more opportunities for the modular growth path of the WESCAM MX-20 as mission portfolios evolve and the battlespace continues to change on a global scale," said Jacques Comtois, Vice President and General Manager of L3 WESCAM. "MX systems are the eyes of customers across more than 80 countries worldwide."
L3's WESCAM MX-Series has been engineered to focus on the three factors that drive maximum range: resolution, magnification and stabilization. As a result, each turret has outperformed its major competitor in every performance area, giving WESCAM the longest EO/IR target identification and designating ranges in the industry.
GA‑ASI is the world's leading manufacturer of RPAS and related mission systems. Team SkyGuardian Canada combines the best of Canadian industry with the world's most advanced Medium-Altitude Long-Endurance (MALE) RPAS, the MQ-9B SkyGuardian, being developed to fulfill Canada's RPAS project requirements.
For more information on Team SkyGuardian, go to teamskyguardiancanada.com. High-resolution photos of MQ-9B SkyGuardian are available to qualified media outlets from the GA-ASI media contact list.
About GA-ASI
General Atomics Aeronautical Systems, Inc. (GA-ASI), an affiliate of General Atomics, is the leading designer and manufacturer of proven, reliable Remotely Piloted Aircraft (RPA) systems, radars, and electro-optic and related mission systems, including the Predator® RPA series and the Lynx® Multi-mode Radar. With more than five million flight hours, GA-ASI provides long-endurance, mission-capable aircraft with integrated sensor and data link systems required to deliver persistent flight that enables situational awareness and rapid strike. The company also produces a variety of ground control stations and sensor control/image analysis software, offers pilot training and support services, and develops meta-material antennas. For more information, visit www.ga-asi.com.
Predator and Lynx are registered trademarks of General Atomics Aeronautical Systems, Inc.
For more information contact:
GA-ASI Media Relation
General Atomics Aeronautical Systems, Inc.
+1 (858) 524-8108
ASI-MediaRelations@ga-asi.com