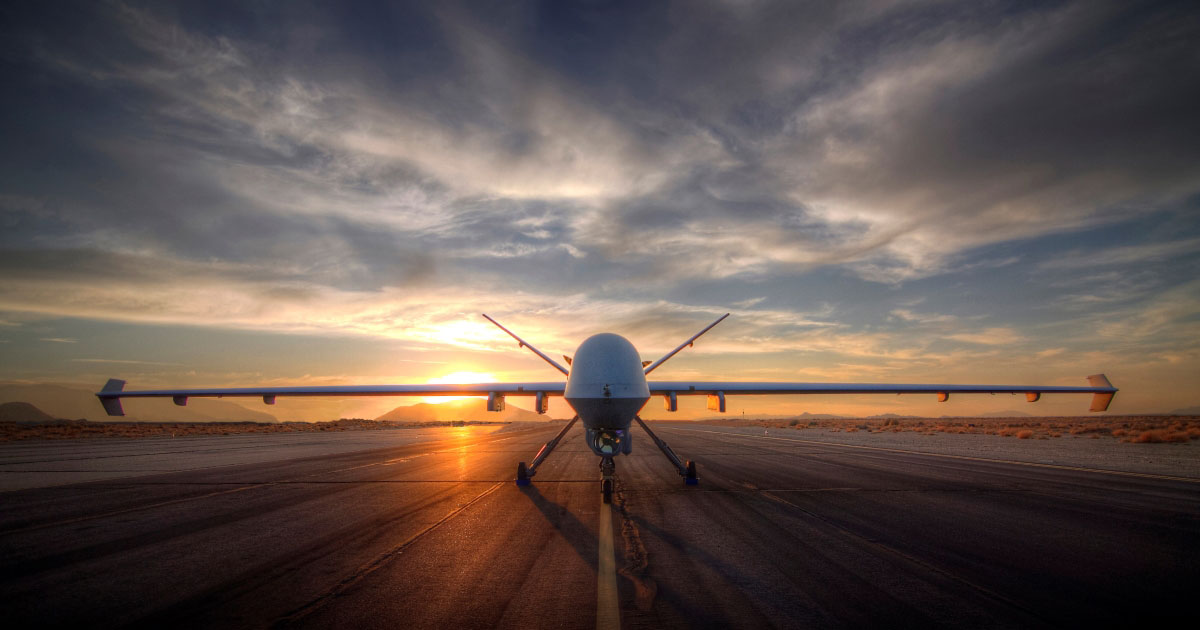 GA-ASI Honors USAF's 89th ATKS as RPA Squadron of the Year
SAN DIEGO – 6 June 2022 – The U.S. Air Force's 89th Attack Squadron (ATKS) was recognized as the MQ-9 Squadron of the Year at an event hosted by General Atomics Aeronautical Systems, Inc. (GA-ASI) on May 20, 2022, in Rapid City, S.D. The award is given annually to the ATKS that distinguishes itself through its deployment of MQ-9A Remotely Piloted Aircraft (RPA) in meritorious service. GA-ASI is the developer of the MQ-9A and the world leader in RPA technology.
For several years, the 89th ATKS has advocated for MQ-9A Reaper relevancy in current and future conflicts. This was especially evident through their work in the past year with U.S. Europe Command (USEUCOM) and U.S. Central Command (USCENTCOM) supporting U.S. Naval Forces Europe, various NATO allies, the Joint Artificial Intelligence Center (JAIC), and several other Defense and Government organizations. Considering the importance of strategic competition in the Pacific, the 89 ATKS has devoted extensive simulated training time to understand how to best employ the MQ-9A in that region.
"The 89 ATKS has made a significant impact on multiple areas of responsibility over the last few years, and it speaks volumes to their dedication and passion to improving MQ-9 operations and showcasing the MQ-9's multi-role capabilities," said GA-ASI President David R. Alexander. "We're especially proud that the 89th has become the first repeat winner of the MQ-9 award."
In 2021, the squadron provided protection to the U.S. and coalition forces across multiple combatant commands. The squadron achieved the first network accredited MQ-9A simulator, integrating in over 40 joint exercises with 12 nations across three combatant commands. The intelligence flight garnered the 12 Air Force's Intelligence Agency Team of the Year and Air Combat Command's Spark Tank finalist.
The 89th Attack Squadron, stationed at Ellsworth Air Force Base (AFB), S.D., is a Geographically Separated Unit (GSU) that falls under the 25th Attack Group (ATKG) at Shaw AFB, S.C. The 25th is also a GSU and falls under the 432d Wing at Creech AFB, Nev.
About GA-ASI
General Atomics-Aeronautical Systems, Inc. (GA-ASI), an affiliate of General Atomics, is a leading designer and manufacturer of proven, reliable remotely piloted aircraft (RPA) systems, radars, and electro-optic and related mission systems, including the Predator® RPA series and the Lynx® Multi-mode Radar. With more than seven million flight hours, GA-ASI provides long-endurance, mission-capable aircraft with integrated sensor and data link systems required to deliver persistent flight that enables situational awareness and rapid strike. The company also produces a variety of ground control stations and sensor control/image analysis software, offers pilot training and support services, and develops meta-material antennas. For more information, visit www.ga-asi.com.


Avenger, Lynx, Predator, SeaGuardian and SkyGuardian are registered trademarks of General Atomics Aeronautical Systems, Inc.