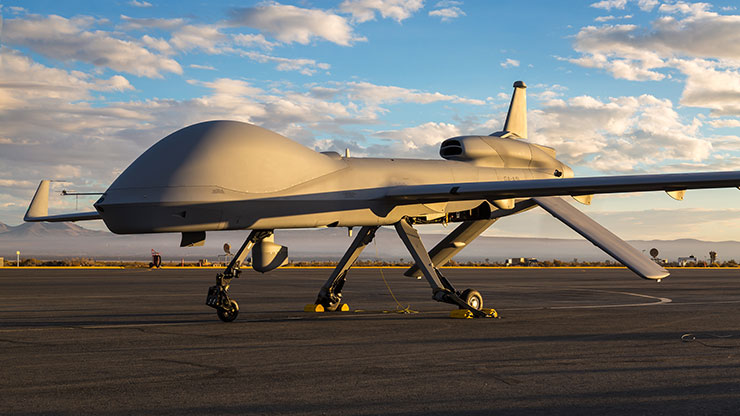 GA-ASI Completes FOT&E for Gray Eagle Extended Range
SAN DIEGO – 08 October 2018 – Partnered with the U.S. Army, General Atomics Aeronautical Systems, Inc. (GA-ASI) recently completed Follow-On Operational Test & Evaluation (FOT&E) for its MQ-1C ER Gray Eagle Extended Range. Testing of the Unmanned Aircraft System (UAS) began in early June and spanned 644 flight hours during the testing period. The successful test opens the door for MQ-1C ER initial fielding to the U.S. Army Intelligence & Security Command (INSCOM) and Special Operations Command (SOCOM), followed by units from Forces Command (FORSCOM).
"We expected the Gray Eagle Extended Range to perform well and it performed as advertised," said David R. Alexander, president, Aircraft Systems, GA-ASI. "The FOT&E highlighted some of the key benefits that the MQ-1C ER will deliver to our U.S. Army customer, including significantly increased endurance, more payload capacity to support future mission tasking, and considerable improvements in system reliability and maintainability."
MQ-1C-ER flew close to 40 hours in support of critical testing which yielded results that significantly exceeded the goals for endurance. The soldiers tested the full range of MQ-1C-ER's capability to support the Army's vision for long range and persistent reconnaissance.
"The Gray Eagle ER clearly demonstrated its ability to support the future force. We added multiple payloads that enable it to perform a wide range of missions to further support the warfighter in contested operations," said Alexander.
The FOT&E was conducted in Palmdale, California at Air Force Plant 42.
Hi-resolution photos of MQ-1C ER are available to qualified media outlets from the listed GA-ASI media contact.
About GA-ASI
General Atomics Aeronautical Systems, Inc. (GA-ASI), an affiliate of General Atomics, is the leading designer and manufacturer of proven, reliable Remotely Piloted Aircraft (RPA) systems, radars, and electro-optic and related mission systems, including the Predator® RPA series and the Lynx® Multi-mode Radar. With more than five million flight hours, GA-ASI provides long-endurance, mission-capable aircraft with integrated sensor and data link systems required to deliver persistent flight that enables situational awareness and rapid strike. The company also produces a variety of ground control stations and sensor control/image analysis software, offers pilot training and support services, and develops meta-material antennas. For more information, visit www.ga-asi.com.
Reaper, Predator, and Lynx are registered trademarks of General Atomics Aeronautical Systems, Inc.
For more information contact:
Melissa Haynes
General Atomics Aeronautical Systems, Inc.
+1 (858) 524-8108
ASI-MediaRelations@ga-asi.com