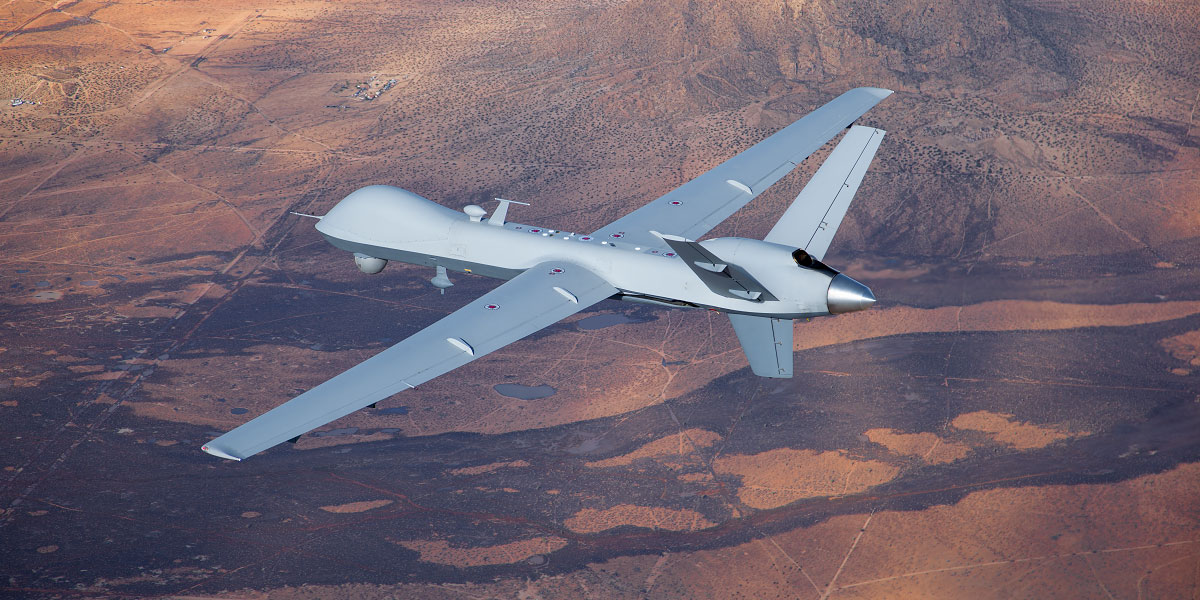 GA-ASI Assists California Air National Guard with Fire Season
SAN DIEGO – 25 November 2019 – General Atomics Aeronautical Systems, Inc. (GA-ASI) is supporting the California Air National Guard (CA ANG) as they provide real-time reconnaissance for California's Department of Forestry and Fire Protection (CAL FIRE) firefighting operations in Southern California.
CA ANG's 163rd Attack Wing routinely performs aerial reconnaissance for firefighting missions using their Predator® B/MQ-9 Remotely Piloted Aircraft upon request by CAL FIRE. The GA-ASI manufactured RPA includes the company's Lynx® Multi-mode Rader with Synthetic Aperture Radar (SAR) to detect fire lines even through smoke-filled skies. The Multi-Spectral Targeting System provides the Electro-optical/Infrared (EO/IR) cameras with live high-definition color and infrared video feeds to ground command posts. This 24x7 real-time imagery delivers critical situational awareness to both ground and air fire suppression operations.
"Providing support for natural disasters is just one more way to utilize our aircraft," said Linden Blue, CEO, GA-ASI. "GA-ASI is always pleased to know our products can and will assist when these kinds of situations occur."
Operations of the 163rd are based at March Air Reserve Base (ARB) in Riverside, Calif. and are deployable throughout Southern and Central California. CA ANG, the United States Air Force (USAF) and GA-ASI have created a joint backup plan to launch and recover CA ANG MQ-9 aircraft when takeoff or landing at March ARB is not feasible due to operational constraints, such as weather.
On October 25, 2019, while CA ANG was providing reconnaissance support to CAL FIRE, Santa Ana winds prevented recovery of the 163rd Air Attack Wing's MQ-9 to March ARB. GA-ASI ground crew members, in partnership with on-site USAF aircrew at General Atomics' Gray Butte Flight Test Facility near Palmdale, Calif., recovered, serviced and refueled the aircraft, then re-launched it. This allowed the CA ANG MQ-9 to resume its fire support mission, minimizing a gap in coverage. This is the second time flexible support between these three agencies has resulted in seamless CAL FIRE coverage.
High-resolution photos of Predator-series aircraft are available to qualified media outlets from the GA-ASI media contact list.
About GA-ASI
General Atomics Aeronautical Systems, Inc. (GA-ASI), an affiliate of General Atomics, is a leading designer and manufacturer of proven, reliable Remotely Piloted Aircraft (RPA) systems, radars, and electro-optic and related mission systems, including the Predator® RPA series and the Lynx® Multi-mode Radar. With six million flight hours across the Predator series, GA-ASI provides long-endurance, mission-capable aircraft with integrated sensor and data link systems required to deliver persistent flight that enables situational awareness and rapid strike. The company also produces a variety of ground control stations and sensor control/image analysis software, offers pilot training and support services, and develops meta-material antennas. For more information, visit www.ga-asi.com.
Predator, SkyGuardian, SeaGuardian and Lynx are registered trademarks of General Atomics Aeronautical Systems, Inc.
For more information contact:
GA-ASI Media Relation
General Atomics Aeronautical Systems, Inc.
+1 (858) 524-8108
ASI-MediaRelations@ga-asi.com