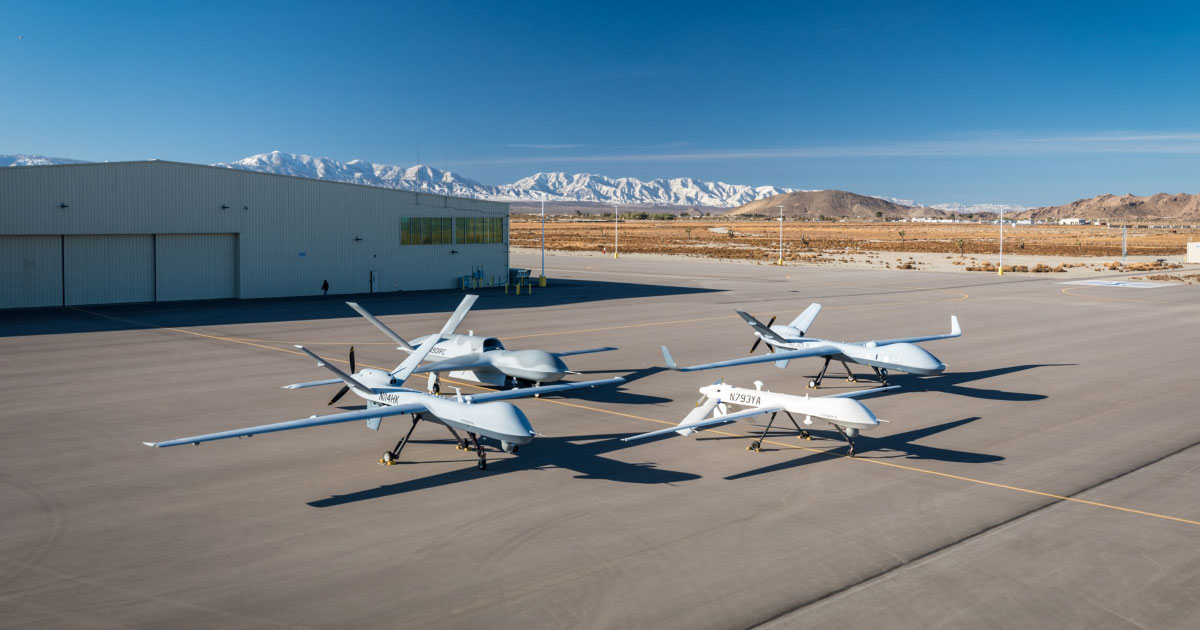 GA-ASI 30 Years of UAS Innovation
Global Leader in Unmanned Aircraft Approaches 30 Years in Business; Celebrates an Extraordinary History of Support for the Armed Forces
SAN DIEGO – 02 March 2022 – With more than 1,000 aircraft delivered and 7 million flight hours logged by its U.S. and allied partners across its fleet of Remotely Piloted Aircraft (RPA), General Atomics Aeronautical Systems, Inc. (GA-ASI) is celebrating 30 years of excellence in 2022.
"Thirty years is an important milestone," said GA-ASI President David R. Alexander. "We're proud to have made an important contribution to global security and become a trusted supplier to allied forces throughout the world. As we approach the annual AFA Warfare Symposium, we're reflecting on the important work we've done, and focused on evolving to deliver critical and innovative capabilities for the future."
Headquartered in Poway, California, GA-ASI employs more than 9,000 people in a business that spans multiple facilities in San Diego, the Mojave Desert, Arizona, Utah, North Dakota, and others adjacent to various customer locations across the United States and around the world.
Established as a business on April 28, 1992, GA-ASI won its first contract award that same year for six GNAT®-750 Unmanned Aircraft Systems (UAS) for the Turkish government. In 1994, the company won its first major program award for the Predator® RPA from the U.S. Joint Program Office, which was later transferred to the U.S. Air Force.
The Predator line has evolved to include an impressive array of aircraft, including Reaper, Gray Eagle Extended Range, SkyGuardian®/SeaGuardian®, and the jet-powered Avenger®. In December 2021, GA-ASI announced a new class of expeditionary UAS with short-takeoff and landing capability called Mojave.
"Every day, we embrace our company mission, which is to develop transformational technologies that deliver game-changing results," said Alexander. "As proud as we are of our first 30 years in business, we're even more excited to see what the future holds."
GA-ASI produces the most combat-proven RPA in the world, delivering robust Intelligence, Surveillance and Reconnaissance (ISR) data and formidable strike capabilities. GA-ASI's long-endurance, mission-capable RPA, with integrated sensors and data link systems, deliver persistent situational awareness and enable information dominance in every domain. Every minute of every day, nearly 70 GA-ASI aircraft are airborne.
About GA-ASI
General Atomics-Aeronautical Systems, Inc. (GA-ASI), an affiliate of General Atomics, is a leading designer and manufacturer of proven, reliable remotely piloted aircraft (RPA) systems, radars, and electro-optic and related mission systems, including the Predator® RPA series and the Lynx® Multi-mode Radar. With more than seven million flight hours, GA-ASI provides long-endurance, mission-capable aircraft with integrated sensor and data link systems required to deliver persistent flight that enables situational awareness and rapid strike. The company also produces a variety of ground control stations and sensor control/image analysis software, offers pilot training and support services, and develops meta-material antennas. For more information, visit www.ga-asi.com.
Avenger, Lynx, Predator, SeaGuardian and SkyGuardian are registered trademarks of General Atomics Aeronautical Systems, Inc.