AIAA Recognizes Outstanding GA-ASI Employees
Chris Dusseault Awarded for Outstanding Aerospace Management; Claudia Mowery and Brandon Suarez for Outstanding Aerospace Engineering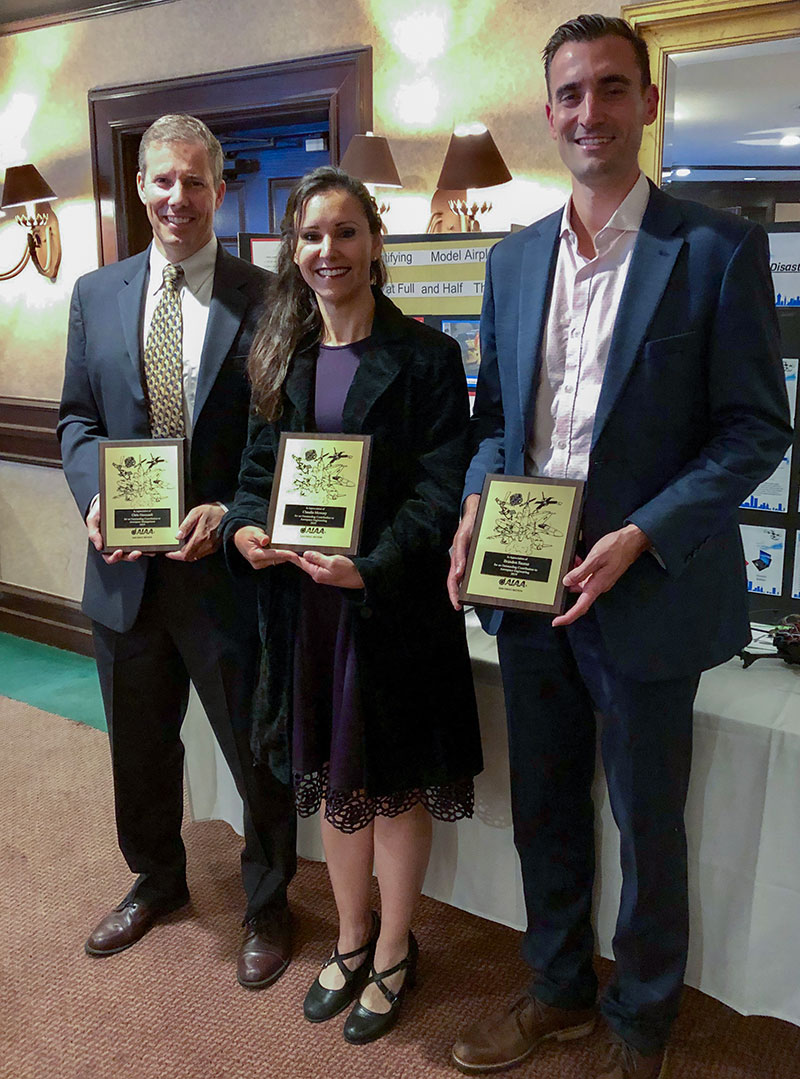 SAN DIEGO – 10 May 2019 – Chris Dusseault, Claudia Mowery and Brandon Suarez of General Atomics Aeronautical Systems, Inc. (GA‑ASI) were honored by the American Institute of Aeronautics and Astronautics (AIAA) with awards for outstanding contributions to aerospace at an event on May 9th. GA-ASI is a leading employer in the San Diego area and manufacturer of Remotely Piloted Aircraft (RPA) systems, radars, and electro-optic and related mission systems solutions.
"Congratulations to Chris, Claudia and Brandon on receiving the AIAA awards," said Linden Blue, CEO, GA-ASI. "I thank them for their outstanding contributions to our company's development efforts. They are excellent examples of the talent and leadership we have at GA-ASI."
In the category of Outstanding Contribution to Aerospace Management, Chris Dusseault, senior director of International Programs for GA-ASI, was recognized for his leadership in the development of the company's MQ-9B SkyGuardian RPA. SkyGuardian has been selected by the United Kingdom's Royal Air Force for its Protector RG Mk1 Program. SkyGuardian is being designed to fly in non-segregated civilian airspace under the NATO STANAG 4671 standard, which puts the RPA on a path to become the first to achieve type certification. GA-ASI and the Royal Air Force will make aviation history when they field the first RPA certified to operate in civilian airspace, expected in the early 2020s.
Claudia Mowery, technical director and chief engineer of GA-ASI's Block 50 Ground Control Station (GCS), was honored for Outstanding Contribution to Aerospace Engineering. Ms. Mowery and her team of more than 100 engineers successfully navigated a formal Preliminary Design Review and Critical Design Review with the U.S. Air Force (USAF), enabling the new GCS to field advanced capabilities that will enhance combat effectiveness. Ms. Mowery and her team were then responsible for the first flight of an MQ-9 Reaper controlled by the new USAF Block 50 GCS this past January.
A second award for Outstanding Contribution to Aerospace Engineering was presented to Brandon Suarez, technical director of UAV Civil Airspace Integration for GA-ASI. Mr. Suarez helped GA-ASI and its partners perform the first-ever flight of a large RPA without a chase plane in non-segregated airspace featuring an airborne Detect and Avoid (DAA) system. Mr. Suarez and his team developed the DAA system to meet – and in many ways exceed – the air traffic awareness systems used on commercial airliners today. He then worked collaboratively with NASA and the FAA to prove the concept by installing the DAA system on NASA's MQ-9 Ikhana RPA, which was then flown through congested airspace in California without a manned "chase" airplane. The DAA development is part of GA-ASI's initiative to integrate large RPA into domestic and international civilian airspace.
The San Diego Section of AIAA is dedicated to promoting awareness, activism and access throughout the aerospace community.
About GA-ASI
General Atomics Aeronautical Systems, Inc. (GA-ASI), an affiliate of General Atomics, is a leading designer and manufacturer of proven, reliable Remotely Piloted Aircraft (RPA) systems, radars, and electro-optic and related mission systems, including the Predator®RPA series and the Lynx®Multi-mode Radar. With more than five million flight hours, GA-ASI provides long-endurance, mission-capable aircraft with integrated sensor and data link systems required to deliver persistent flight that enables situational awareness and rapid strike. The company also produces a variety of ground control stations and sensor control/image analysis software, offers pilot training and support services, and develops meta-material antennas. For more information, visit www.ga-asi.com.
Predator and Lynx are registered trademarks of General Atomics Aeronautical Systems, Inc.
For more information contact:
GA-ASI Media Relation
General Atomics Aeronautical Systems, Inc.
+1 (858) 524-8108
ASI-MediaRelations@ga-asi.com