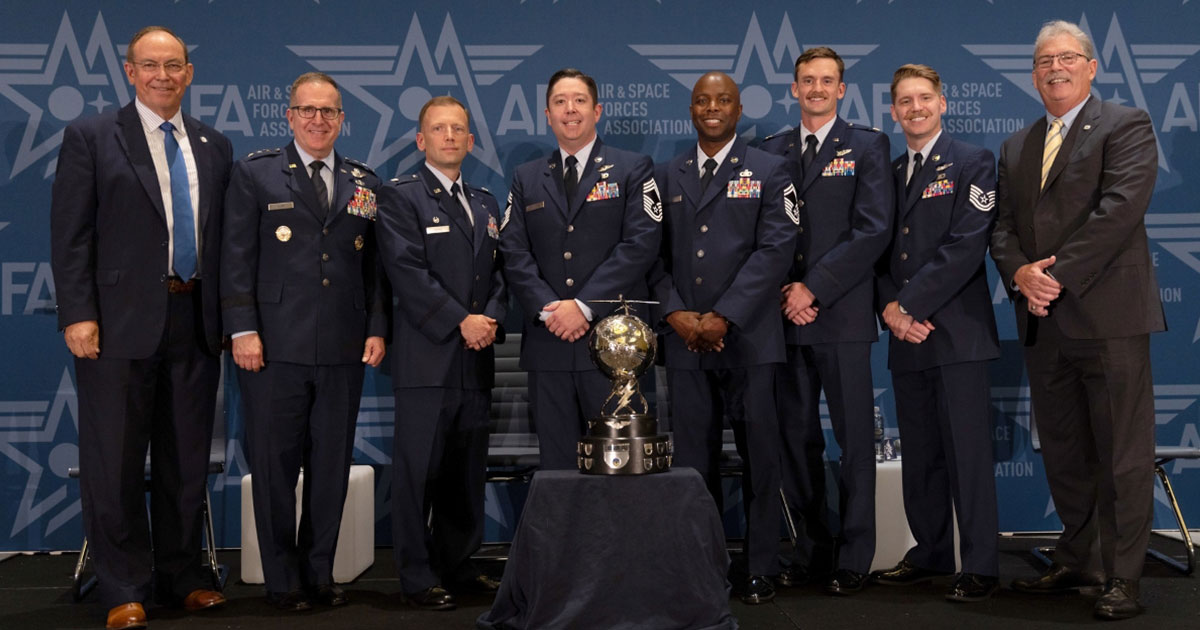 2nd Special Operations Squadron Awarded RPA Squadron of the Year
SAN DIEGO – 21 September 2023 – The Mitchell Institute for Aerospace Studies and General Atomics Aeronautical Systems, Inc. (GA-ASI) presented the 2022 Remotely Piloted Aircraft (RPA) Squadron of the Year Award to the 2nd Special Operations Squadron (SOS) at a special ceremony at the Air Force Association's Air, Space & Cyber Conference on Sept. 11, 2023. The award is given annually to the Squadron that distinguishes itself through its employment of RPA in meritorious service.
The 2022 award was presented by Lt. Gen. Jim Slife, Deputy Chief of Staff for Operations for the U.S. Air Force; GA-ASI President David R. Alexander; and Lt. Gen. (Ret.) David A. Deptula, the Dean of the Mitchell Institute.
The 2nd SOS, known as the Scorpions, are based out of Hurlburt Field, Florida. The Scorpions flew over 16,000 hours throughout 2022 in support of Operation ENDURING SENTINEL, Operation OCTAVE SHIELD, and Operation INHERENT RESOLVE. The Squadron also paved the way for satellite launch and recovery operations during Emerald Flag, and they demonstrated Reaper Agile Combat Employment. The Scorpions accelerated progress towards realizing the Department of the Air Force's future concepts of operation for unmanned systems in the 2020s and beyond.
"I was thrilled to present the award to the Scorpions for their extraordinary use of MQ-9A Reapers in the defense of our country," said Alexander. "They expanded their use of Reapers and demonstrated how capabilities like Automatic Takeoff and Landing could be effectively executed from home units within the U.S. to anywhere in the world using satellite beyond-line-of-sight connectivity."
The 2nd SOS flew demonstrations both in Large Force Exercises, including the first time an MQ-9A conducted Agile Combat Employment as part of Emerald Flag 2022, and they also employed these procedures in combat environments for the first time in two different classified areas of responsibility (AOR). They developed and trained instructors that shared this knowledge with other squadrons and aircrew within the MQ-9A enterprise.
About GA-ASI
General Atomics Aeronautical Systems, Inc. (GA-ASI), an affiliate of General Atomics, is a leading designer and manufacturer of proven, reliable RPA systems, radars, and electro-optic and related mission systems, including the Predator® RPA series and the Lynx® Multi-mode Radar. With more than eight million flight hours, GA-ASI provides long-endurance, mission-capable aircraft with integrated sensor and data link systems required to deliver persistent situational awareness. The company also produces a variety of sensor control/image analysis software, offers pilot training and support services, and develops meta-material antennas.
For more information, visit www.ga-asi.com





Avenger, Lynx, Predator, SeaGuardian, and SkyGuardian are registered trademarks of General Atomics Aeronautical Systems, Inc.