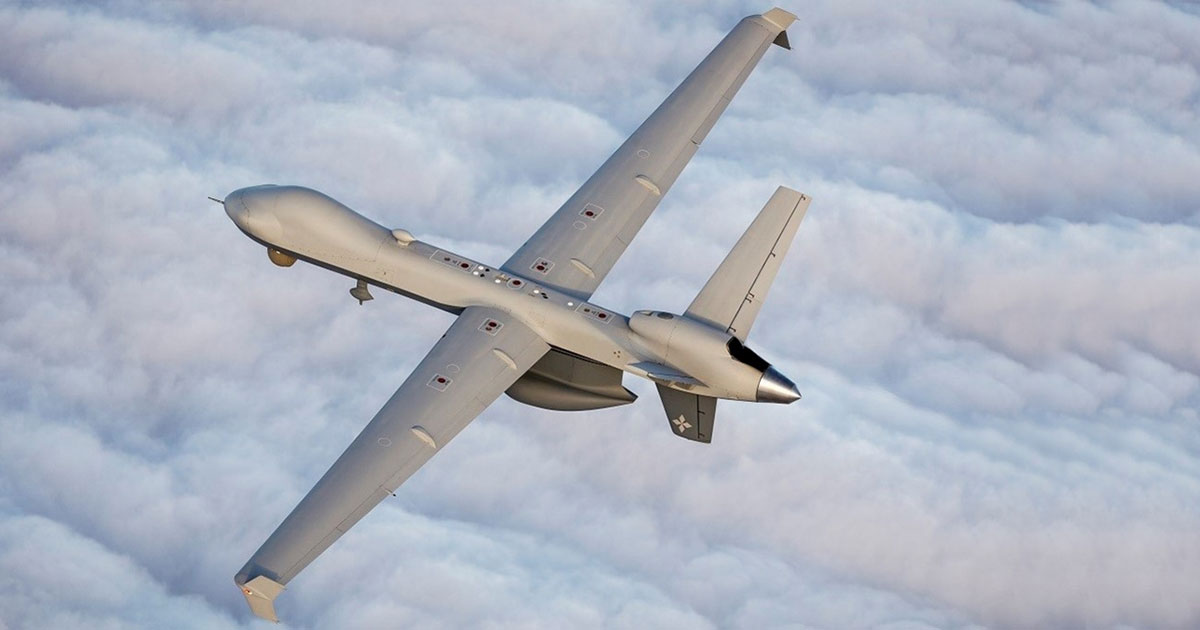 US Embassy in India Visits Indian Navy Station Operating Leased MQ-9
SAN DIEGO – 07 February 2023 – The Indian Navy has been operating General Atomics Aeronautical Systems, Inc. (GA-ASI) manufactured MQ-9 Remotely Piloted Aircraft Systems (RPAS) under lease for over two years. Recently, Senior Staff from the U.S. Embassy of India visited the operating location.
The U.S. Embassy Staff were familiarized with the ongoing operation by a tour of the GA-ASI facilities set up within the Indian Naval Station by Indian Navy personnel. The U.S. Embassy Staff were briefed by the Indian Navy about the capabilities of the remotely piloted aircraft and its various sensors, their roles in aiding Indian Navy surveillance tasking, maintenance, and logistical support.
Dr. Vivek Lall, Chief Executive, General Atomics Global Corporation, stated, "GA-ASI is proud to be associated with the Indian Navy in this unique mission. The visit by Staff of the U.S. Embassy in India to witness MQ-9 operations from an Indian Naval Base, highlights the close synergy between our two countries in building credible defense cooperation for achieving and maintaining peace in the Indian Ocean Region."
Mr. Raghavan Srinivasan, Commercial Attaché, U.S. Embassy New Delhi said, "We were truly impressed by the collaboration we witnessed between the Indian Navy and GA-ASI. The MQ-9 is a proven ISR platform, and the Indian Navy has deployed it to its full potential. The camaraderie between the Indian Navy personnel and GA-ASI crew is evident, despite the tempo of operations and pressures of long-range maritime surveillance."
GA-ASI manufactures the world's most advanced RPAS, which are equipped with cutting-edge technology and are operated by a complex ground system of interconnected control stations and operational centers. The MQ-9s are supplied to India by GA-ASI as part of a Company-Owned, Company-Operated (COCO) lease agreement. GA-ASI is the world's leading manufacturer of RPA systems, radars, and electro-optic and related mission systems solutions. MQ-9s are operated by the United States, the United Kingdom, France, Italy, the Netherlands, and Spain. GA-ASI's newer variant has been acquired by the UK and on order for Belgium. SeaGuardian® recently began operations in support of the Japan Coast Guard.
About GA-ASI
General Atomics Aeronautical Systems, Inc. (GA-ASI), an affiliate of General Atomics, is a leading designer and manufacturer of proven, reliable Remotely Piloted Aircraft (RPA) systems, radars, and electro-optic and related mission systems, including the Predator® RPA series and the Lynx® Multi-mode Radar. With more than seven million flight hours, GA-ASI provides long-endurance, mission-capable aircraft with integrated sensor and data link systems required to deliver persistent flight that enables situational awareness and rapid strike. The company also produces a variety of ground control stations and sensor control/image analysis software, offers pilot training and support services, and develops meta-material antennas. For more information, visit www.ga-asi.com


Avenger, Lynx, Predator SeaGuardian and SkyGuardian are registered trademarks of General Atomics Aeronautical Systems, Inc.