General Atomics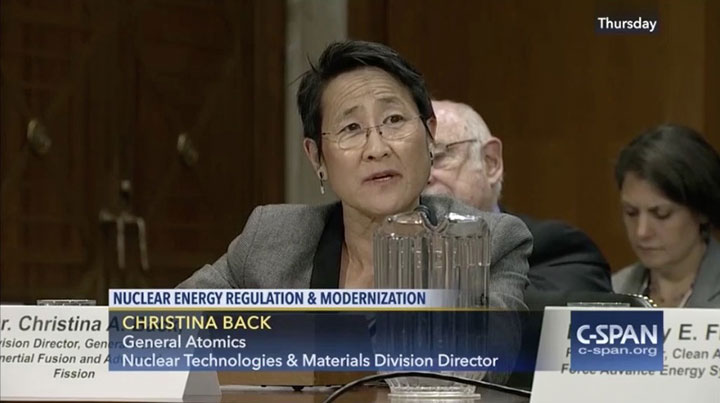 EM2 Advanced Reactor Concept Solving All Four Core Challenges Facing Nuclear Industry
Washington, D.C., 21 April 2016 – Dr. Christina Back, Vice President, Nuclear Technologies and Materials for General Atomics and lead physicist responsible for the Energy Multiplier Module (EM2), an advanced reactor concept, today testified before the U.S. Senate Environment and Public Works Committee's Subcommittee on Clean Air and Nuclear Energy on the efforts to modernize the Nuclear Regulatory Commission (NRC) to best jumpstart research into advanced nuclear reactors.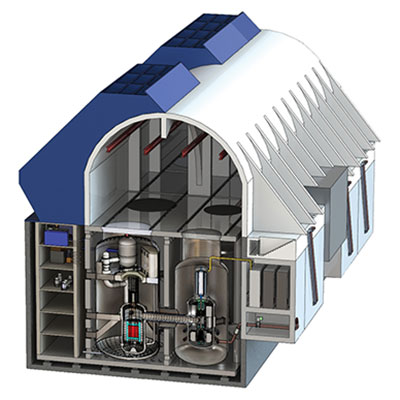 "The following four core principles should guide the design of an 'advanced reactor' to ensure commercial success. It must produce cost-competitive clean electricity, be safer, produce significantly less waste, and reduce proliferation risk," Dr. Back testified.
"We believe every worthy advanced reactor concept must address these four core principles jointly. It is not sufficient to excel at one with disregard to the others," continued Back.
EM2 is an advanced reactor concept designed to meet the needs of the twenty-first century United States electrical grid. EM2 is a passively safe, helium-cooled, convert-and-burn reactor with a net power of 265 MWe. It embodies significant advances in plant safety, operability, economics, resource utilization and security. EM2 capabilities are the result of bold innovations in reactor physics, core materials, safety system design, and power conversion technology.
"If this Committee's objective is to stimulate the development of new advanced reactors, hopefully defined as we've outlined here, we would suggest that it is in this early phase that it would be relatively inexpensive to involve the NRC for early consultations with potentially very high impact," concluded Dr. Back.
Dr. Back's complete written testimony is available here. For more information on General Atomics' EM2 project or to speak with Dr. Christina Back please contact Zabrina Johal at (858) 455-4004.
About General Atomics
San Diego-based General Atomics and its affiliated companies now constitute one of the world's leading resources for high-technology systems ranging from the nuclear fuel cycle to electromagnetic systems, remotely operated surveillance aircraft, airborne sensors, and advanced electronic, wireless and laser technologies.
Contact
Zabrina Johal
(858) 455-4004
Links
Testimony (PDF): Testimony of Christina Back, Ph.D. V.P., Nuclear Technologies and Materials, General Atomics Before the U.S. Senate Committee on Environment and Public Works, Subcommittee on Clean Air and Nuclear Safety "Enabling Advanced Reactors and a Legislative Hearing on S.2795, The Nuclear Energy Innovation and Modernization Act" April 21, 2016
Video: Complete Senate Hearing On Advanced Reactor Research And Future of Nuclear Regulatory Commission (2 hours)
Video: Introduction, purpose, supporters of the bill and Christina Back Testimony (27 minutes)
Video: Christina Back Testimony only (6 minutes)