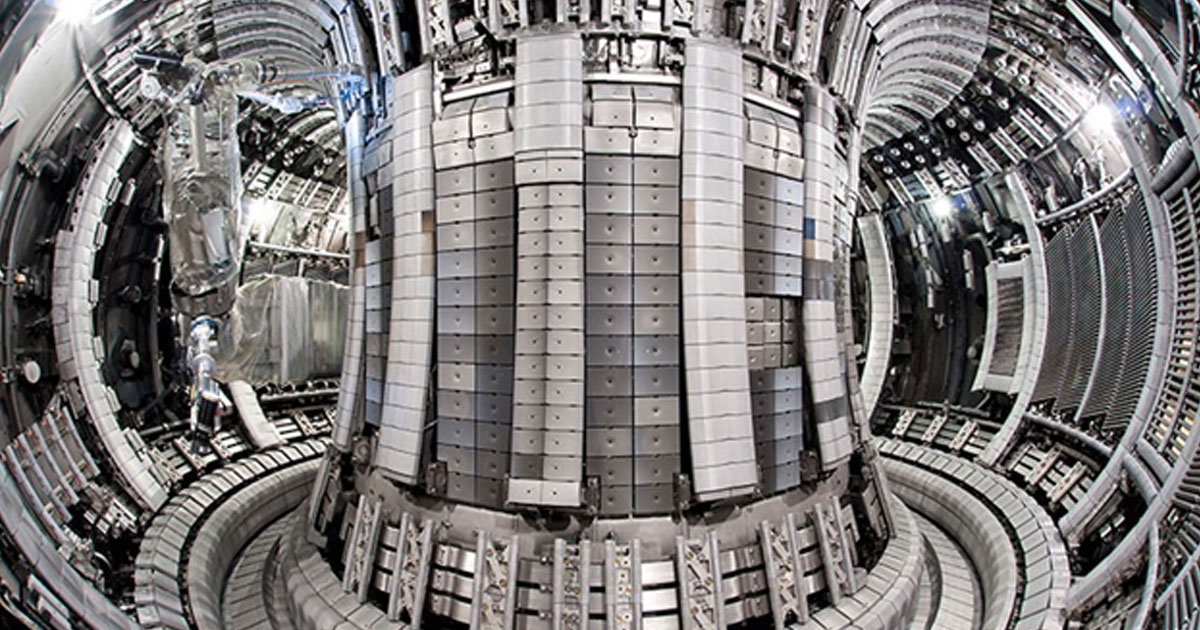 General Atomics Congratulates Joint European Torus on Record Fusion Yield
San Diego, 23 February 2022 – General Atomics (GA) congratulates the team at the Joint European Torus (JET) for their landmark result that more than doubled the previous record for sustained energy from a single fusion plasma experiment. The achievement, using the same fuel mixture that will be employed in future commercial power plants, points the way toward fusion as a viable energy source for the future.
"This result couldn't have come at a better time," said Richard Buttery, Director of the DIII-D National Fusion Facility, and a former team leader at JET in the early 2000s. "We can use it to help prepare and optimize our approaches for ITER and apply it to fusion power plant concepts."
GA has worked in fusion energy since the 1960s and operates DIII-D for the U.S. Department of Energy Office of Science. Like JET, DIII-D is a tokamak that uses powerful electromagnets to produce a toroidal (doughnut-shaped) magnetic bottle for confining a fusion plasma. Plasma is the fourth state of matter in which electrons are stripped from the atoms, producing a highly ionized "soup" of nuclei and electrons that can be controlled by magnetic fields. Though GA scientists were not involved in this experiment, GA and DIII-D researchers regularly collaborate with scientists from EUROFusion and the UK Atomic Energy Authority, which operate JET. JET and DIII-D are both testbeds for future fusion reactor designs.
The recent JET experiments achieved fusion with a plasma that can be sustained like the ITER experiment under construction in France, and the results demonstrate how to sustain fusion conditions in future reactors.
"The JET data, using fusion fuel, helps us define key properties and processes going on in the plasma," Buttery said, "so we can improve our simulation models to project future fusion reactors. JET, uniquely, uses fusion fuel, fusion materials, and achieves fusion at scale, which gives us great confidence in the results that future devices will deliver."
About General Atomics:
Since the dawn of the atomic age, General Atomics innovations have advanced the state of the art across the full spectrum of science and technology – from nuclear energy and defense to medicine and high-performance computing. Behind a talented global team of scientists, engineers, and professionals, GA's unique experience and capabilities continue to deliver safe, sustainable, economical, and innovative solutions to meet growing global demands.
About the DIII-D National Fusion Facility:
DIII-D is the largest magnetic fusion research facility in the U.S. and has been the site of numerous pioneering contributions to the development of fusion energy science. DIII-D continues the drive toward practical fusion energy with critical research conducted in collaboration with more than 600 scientists representing over 100 institutions worldwide. As a U.S. Department of Energy, Office of Science User Facility, participation in DIII-D research is open to all interested parties. For more information, visit www.ga.com/diii-d.
For more information contact:
Zabrina Johal
Senior Director of Strategic Development
858-455-4004
Zabrina.Johal@ga.com