General Atomics Announces Dry Combat Submersible with LiFT Batteries Accepted by USSOCOM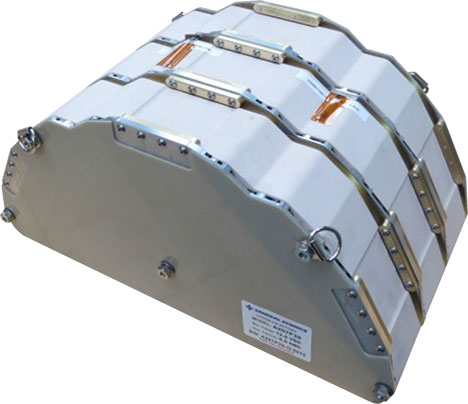 SAN DIEGO, CA, 21 APRIL 2020 - General Atomics Electromagnetic Systems (GA-EMS) announced that the first Dry Combat Submersible (DCS) featuring GA-EMS' Lithium-ion Fault Tolerant (LiFT™) battery system as an energy source was accepted by the U.S. Special Operations Command (USSOCOM). The DCS is a long endurance delivery vehicle capable of transporting personnel in a dry environment. GA-EMS is under contract with Lockheed Martin Corporation to provide LiFT batteries to power the DCS propulsion and internal support systems.
"With demonstrated performance through sea trials and the confidence of USSCOM, our LiFT battery system is becoming a go-to technology when performance is essential for mission assurance," stated Scott Forney, president of GA-EMS. "The acceptance of the first DCS with LiFT technology represents a solid leap toward meeting the demand for battery systems that offer greater reliability, capability and safety to support critical undersea operations. We are proud to be the provider of this energy source and look forward to seeing DCS vehicles with LiFT battery systems onboard achieve USSOCOM acceptance."
The LiFT battery system's modular design and single cell fault tolerance is designed to prevent uncontrolled and catastrophic cascading Lithium-ion cell failure, improving the safety of personnel and platforms while keeping power available for high mission assurance. LiFT battery systems have undergone rigorous at-sea testing by the Navy and have been classified for use on undersea vehicles by Det Norske Veritas Germanischer Lloyd (DNV-GL), an international accredited registrar and classification society for the maritime industry, further demonstrating the safe operation of the LiFT battery system architecture.
About General Atomics Electromagnetic Systems
General Atomics Electromagnetic Systems (GA-EMS) Group is a global leader in the research, design, and manufacture of first-of-a-kind electromagnetic and electric power generation systems. GA-EMS' history of research, development, and technology innovation has led to an expanding portfolio of specialized products and integrated system solutions supporting aviation, space systems and satellites, missile defense, power and energy, and processing and monitoring applications for critical defense, industrial, and commercial customers worldwide.
For further information contact:
EMS-MediaRelations@ga.com