General Atomics and Japanese Officials Mark Important ITER Milestone
Delivery of final conductor key step in fabricating ITER Central Solenoid
San Diego, May 3, 2018 – Officials from U.S. and Japanese fusion energy programs gathered with leaders of General Atomics (GA) Thursday to celebrate delivery of the final spool of conductor from Japan to GA's Magnet Technologies Center near San Diego. The ceremony marks the delivery of the 51st and final spool of the special conductor – a twisted cable of niobium-tin wires surrounded by a stainless steel jacket – that GA is using to fabricate the ITER Central Solenoid (CS).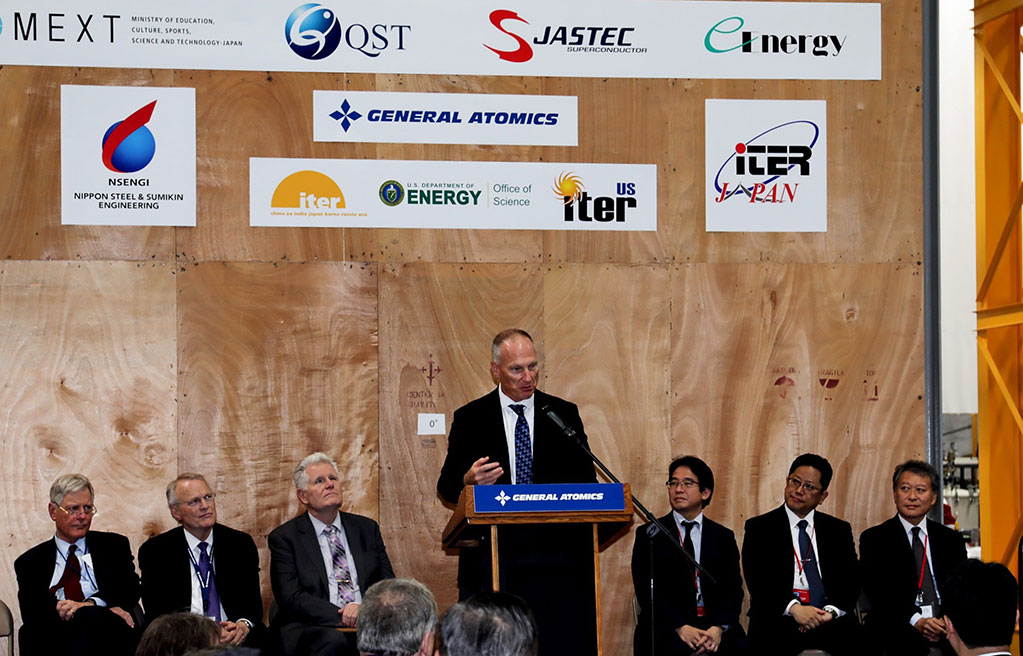 When completed, the five-story, 1,000-ton CS will be the largest pulsed superconducting magnet in the world and will rest at the heart of ITER, an international fusion device that recently passed the halfway mark of construction in Cadarache, France. The CS will drive more than 15 million amperes of current in ITER's fusion plasma. At the core of ITER's mission is proving the feasibility of nuclear fusion – the process that powers the stars – that can potentially produce virtually limitless safe, clean and renewable energy.
"This is an event worth celebrating, as we now have all of the superconducting cable needed to complete the ITER CS modules," said John Smith, who manages GA's ITER CS program. "Japan's industrial partners were able to manufacture and deliver more than 25 miles of this precisely manufactured conductor, which is no small feat."
Manufacture of the conductor involved more than 150 employees working for over five years at multiple companies in Japan and Korea. The strand and cable were manufactured by Japan Superconductor Technology, Furukawa Electric, Mitsubishi Cabling and Kiswire Advanced Technology. The stainless steel jacket was made by KOBELCO Steel Tube. Nippon Steel and Sumikin Engineering then combined the cable and jacket into the conductor that was delivered to GA.
To transform the conductor into the modules, GA has developed an innovative winding process that coils 3.6 miles of conductor into a CS module. Six of the 250,000-pound modules will be stacked into a 59-foot assembly, with a seventh module serving as a spare. Once wound, each module goes through a five-week heating process in which the modules are heated to 1,200⁰ F in a convection oven to convert the niobium-tin wire into a superconducting material.
Final completion of the ITER CS project is on schedule for 2021.
About General Atomics: General Atomics pioneers advanced technologies with world-changing potential. GA has been at the cutting edge of energy innovation since the dawn of the atomic age – for more than 60 years. With scientists and engineers continually advancing the frontier of scientific discovery, GA is serving our growing planet's needs through safe, sustainable, and economical solutions across a comprehensive array of key energy technologies.
For more information contact:
Zabrina Johal
858-455-4004
Zabrina.Johal@ga.com