General Atomics Advanced Arresting Gear System Completes Critical High Cycle Testing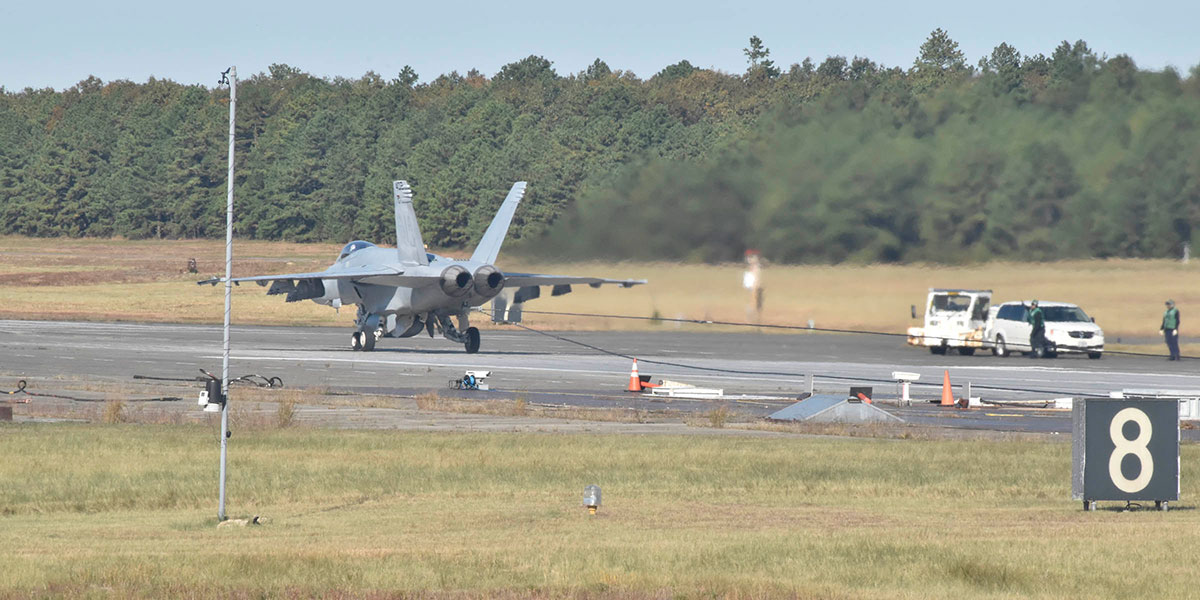 SAN DIEGO, CA, 03 JAN 2020 - General Atomics Electromagnetic Systems (GA-EMS) announced that High Cycle Testing of its Advanced Arresting Gear (AAG) system for Ford-class aircraft carriers was successfully completed over a two-day period in October 2019 at the Runway Arrested Landing Site (RALS) in Lakehurst, New Jersey. High Cycle Testing was conducted at RALS on a single AAG system that is identical to the three systems aboard the USS Gerald R. Ford (CVN 78). Five F/A-18E/F Super Hornets were involved in the testing to simulate the operational tempo of carrier flight operations at sea.
"Over and over again, in rapid succession, AAG sustained an aircraft arrestment rate of nearly one per minute, successfully testing the system's capability to handle the recovery sequence required for combat readiness," stated Scott Forney, president of GA-EMS. "Arresting aircraft at a high rate over a sustained period on the same wire is an aggressive test and shows the ability of the system to withstand extreme conditions. The Ford has the capability for an even higher operational tempo than demonstrated at the test site because it has three wires and clears aircraft from the flight path more efficiently."
High cycle testing is part of the verification and validation of AAG System requirements. The AAG system test program has completed more than 5,000 arrestments at the land-based test facilities at Joint Base McGuire-Dix-Lakehurst, New Jersey, and 747 arrestments aboard CVN 78 during the ship's initial sea trials. The Navy has also issued an Aircraft Recovery Bulletin for the fleet air wing, clearing the AAG system for use on all Ford-class carriers.
"We look forward to CVN 78 getting back out to sea in early 2020 to conduct more robust flight operations," continued Forney. "We anticipate executing significantly more sorties during this phase, utilizing both jet and prop aircraft. AAG works as intended, and we will continue to collaborate with the Navy to ensure system readiness and reliability to meet operational objectives."
AAG is a turbo-electric system designed for controlled and reliable deceleration of aircraft. AAG is installed on board Gerald R. Ford (CVN 78) along with the GA-EMS Electromagnetic Aircraft Launch System (EMALS), which uses electromagnetic technology to launch aircraft from the deck of naval aircraft carriers. In addition to CVN 78, EMALS and AAG are being delivered for the future John F. Kennedy (CVN 79) and the Enterprise (CVN 80).
About General Atomics Electromagnetic Systems
General Atomics Electromagnetic Systems (GA-EMS) Group is a global leader in the research, design, and manufacture of first-of-a-kind electromagnetic and electric power generation systems. GA-EMS' history of research, development, and technology innovation has led to an expanding portfolio of specialized products and integrated system solutions supporting aviation, space systems and satellites, missile defense, power and energy, and processing and monitoring applications for critical defense, industrial, and commercial customers worldwide.
For further information contact:
EMS-MediaRelations@ga.com