General Atomics Accelerates Development of Point of Patient Diagnostic System for Novel Coronovirus Testing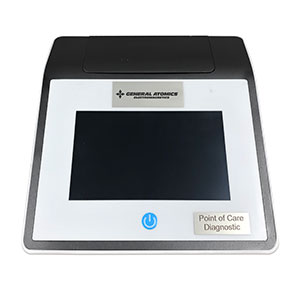 SAN DIEGO, CA, 07 APR 2020 - General Atomics Electromagnetic Systems Group (GA-EMS) announced that it is accelerating the development schedule of its MATCHBOX™ Point-of-Care molecular diagnostic platform to respond to the growing need for testing for COVID-19 and other respiratory illnesses. MATCHBOX is a stand-alone platform based on polymerase chain reaction (PCR) technology for positive identification of molecular targets. MATCHBOX works with blood, urine and swab samples and does not require any manual sample preparation, special training, additional equipment, or facility set-up. MATCHBOX is expected to have the capability to test and provide a diagnosis in the field at the point of care within 30-60 minutes for a wide range of known respiratory infections, including COVID-19 and influenza A and B, using a single patient sample.
"We are working diligently to expedite the transition from a working prototype to an FDA cleared production platform including the necessary approvals to bring MATCHBOX to market," stated Scott Forney, President of GA-EMS. "MATCHBOX has the potential to test across a spectrum of respiratory infection targets. From a single sample, a physician on-site may be able to determine whether a patient is infected with COVID-19 or another type of upper respiratory infection in 60 minutes or less. Determining exactly what the patient has in a single visit and in a single hour has the potential to help significantly expedite patient treatment options and facilitate containment to mitigate potential spread."
About General Atomics Electromagnetic Systems
GA-EMS is a global leader in the research, design, and manufacture of first-of-a-kind electromagnetic and electric power generation systems. GA-EMS' history of research, development, and technology innovation has led to an expanding portfolio of specialized products and integrated system solutions supporting aviation, space systems and satellites, missile defense, power and energy, and processing and monitoring applications for critical defense, industrial, and commercial customers worldwide.
For further information contact:
EMS-MediaRelations@ga.com