GA Launches Bid for DOE Innovative Reactor Program
Makes nuclear-generated electricity cost-efficient and safer while reducing waste
San Diego – Technology leader General Atomics (GA) is developing a small modular reactor that is by far the most advanced high-performance reactor in the world. GA has recently submitted a proposal to the U.S. Department of Energy to help bring this highly innovative reactor to market.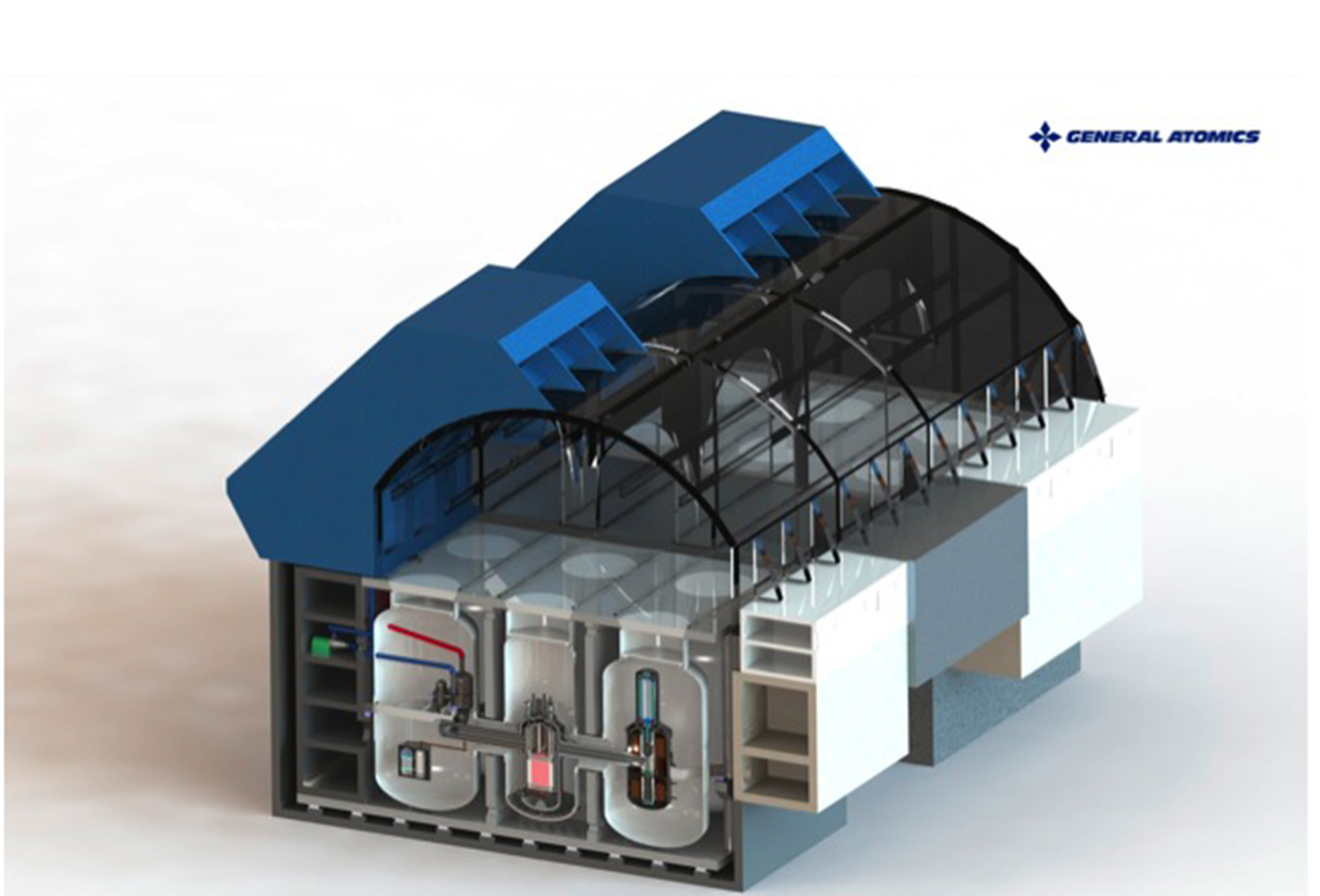 GA's patented Energy Multiplier Module, EM2, fits all major requirements for the new Department of Energy (DOE) initiative promoting an innovative small modular nuclear reactor that is much more economic, safer, less waste producing and more proliferation resistant.
"We welcome the opportunity to join the Department of Energy in advancing the next generation of nuclear technology for reliable and cost-effective clean energy, for this century and beyond," said Dr. John Parmentola, Senior Vice President of Energy and Advanced Concepts Group and an MIT-trained physicist.
GA has assembled a world-class team of experts for this effort and the support of major utilities. The San Diego-based high-tech firm is working with CB&I, a global leader in energy infrastructure whose nuclear capabilities include serving as the lead construction firm for all new U.S. reactors currently under construction. Mitsubishi Heavy Industries brings professional service to the team, with extensive experience in the nuclear industry including involvement in the construction of Japanese advanced reactors. Idaho National Laboratory offers ideal capabilities to test the new EM2 fuel system.
Utilizing its six decades of experience in designing and developing nuclear systems, GA has put forth a truly innovative reactor a fraction of the size of current reactors -- the size of a school bus, 500 MWt and 53% efficient. Other standout features include:
30 years without refueling versus 18 months for current light water reactors
No water for cooling, allowing much greater siting flexibility
A design that achieves both increased efficiency and small size – the 265 megawatt reactor reduces electricity costs by 40% relative to current reactors and produces 80% less waste
Improved safety with a gas-cooled design, utilizing GA's innovative high-performance silicon carbide cladding that resists melting at high temperatures
EM2 incorporates a truck-transportable high-speed gas turbine generator, a major innovation that avoids the huge size and complexity of steam-generated power plants. This means lower up front capital costs for utilities, as well as lower electricity costs for consumers. EM2 will also provide three times the energy per pound of fuel compared to current technology and reduce waste by 80% utilizing just a single pass through fuel cycle.
Reducing just the size of a nuclear reactor is insufficient for fulfilling the new DOE initiative of improved economics for nuclear power, according to Dr. Parmentola. If our nation is to continue to lead the world in advanced reactor technology development, he notes, we have to address concurrently both the size and efficiency so that the price of nuclear generated electricity can compete within the energy mix in our nation.
"EM2 has all of the innovative design characteristics required to achieve the important goals of this program," he said. "We are developing a small modular reactor with, in the DOE's words, 'the potential to address the nation's economic, environmental and energy security goals.'"
About General Atomics
General Atomics is a San Diego-based innovation firm with a 58-year history of successful solutions for energy, defense and environmental challenges, from the groundbreaking TRIGA test reactor to MagLev transport systems to running the nation's largest fusion energy program. For more information, please visit www.ga.com.
For more information contact:
Lisa Petrillo, Strategic Communications
GA Energy and Advanced Concepts Group
(858) 455-3474 | Lisa.petrillo@ga.com
Contact for high-resolution graphics
Doug Fouquet
GA Public Relations
(858) 455-2173
doug.fouquet@ga.com