GA-ASI Expands Flight Test and Training Center in North Dakota
GRAND FORKS – 16 August 2018 – General Atomics Aeronautical Systems, Inc. (GA-ASI) announced last week that it will be expanding its Flight Test and Training Center (FTTC) at the Grand Sky Unmanned Aircraft System (UAS) Business Park near Grand Forks, North Dakota.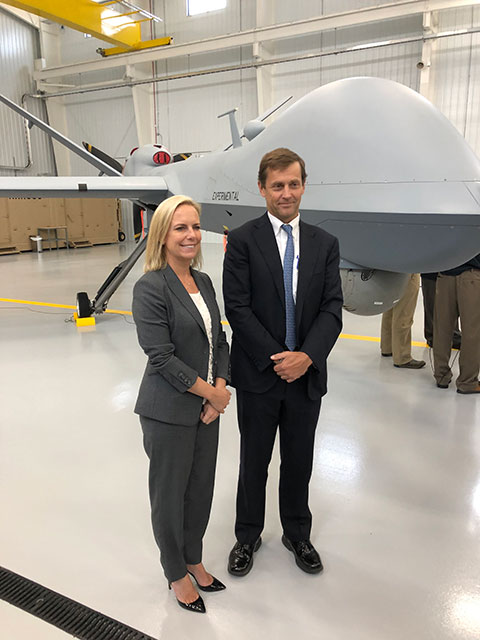 "We're excited to expand our footprint at Grand Sky as part of our FTTC in Grand Forks," said Linden Blue, CEO, GA-ASI. "This growth from 5.5 acres to 20 acres will benefit our customers and strengthen our commitment to the Grand Forks community by building out our test and training capacity."
The expansion announcement came during a visit to the FTTC by Secretary for Homeland Security Kirstjen Nielsen and North Dakota Senator John Hoeven on August 9th.
GA-ASI's expansion is intended to address its increasing demand from U.S. and international customers for flight crew training and sensor system testing. GA-ASI plans to add a second permanent hangar with more office and classroom space in the near term. The company currently employs 47 people in the Grand Forks area, and expects to at least double this number in the years ahead.
In addition to the permanent and temporary hangars at Grand Sky, GA-ASI's existing FTTC operation includes an office building located near the University of North Dakota campus, with classrooms and a Predator Mission Aircrew Training System simulator.
In July, GA-ASI's MQ-9B SkyGuardian began its historic trans-Atlantic flight by taking off from the FTTC, and landing at Fairford, Royal Air Force Base in the United Kingdom 24 hours later.
About GA-ASI
General Atomics Aeronautical Systems, Inc. (GA-ASI), an affiliate of General Atomics, is the leading designer and manufacturer of proven, reliable Remotely Piloted Aircraft (RPA) systems, radars, and electro-optic and related mission systems, including the Predator® RPA series and the Lynx® Multi-mode Radar. With more than five million flight hours, GA-ASI provides long-endurance, mission-capable aircraft with integrated sensor and data link systems required to deliver persistent flight that enables situational awareness and rapid strike. The company also produces a variety of ground control stations and sensor control/image analysis software, offers pilot training and support services, and develops meta-material antennas. For more information, visit www.ga-asi.com.
Reaper, Predator, and Lynx are registered trademarks of General Atomics Aeronautical Systems, Inc.
For more information contact:
Melissa Haynes
General Atomics Aeronautical Systems, Inc.
+1 (858) 524-8108
ASI-MediaRelations@ga-asi.com