CrimeCam Examiner+
Forensic Camera and Lighting Kit for Evidence Detection, Viewing and Photography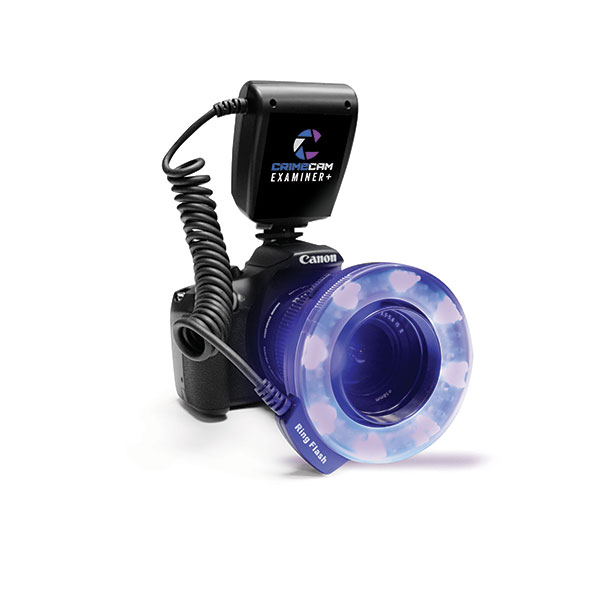 The CrimeCam Examiner+ is an all-in-one forensic camera and lighting system for crime scene investigation and evidence detection and gathering. The CrimeCam Examiner+ 's unique Ring Light provides
24 UV 395nm LEDs
24 Blue 470nm LEDs
16 Bright White LEDs
for "hands-free" illumination, eliminating the need for photographers to manually hold lights or mount additional forensic light sources. CrimeCam Examiner+ is designed for 360° shadow-free lighting to view and capture images of forensic evidence, including biologic, treated fingerprints, fiber, trace, bruising, and bite marks.
CrimeCam Examiner+ Kit Features
Ring Light
24 UV 395nm LEDs
24 Blue 470nm LEDs
16 Bright White LEDs
LEDs can operate in continuous ON mode
Flash selection: left half, right half, all
Seven levels of digitally-controlled LED intensity
ON/OFF power button for manual operation
Camera hot-shoe controlled LED flash
LCD mode and battery charge indicators
Back-lit LCD control panel
Back light power saver dims after 15 seconds
Auto-off function after 15 minutes of inactivity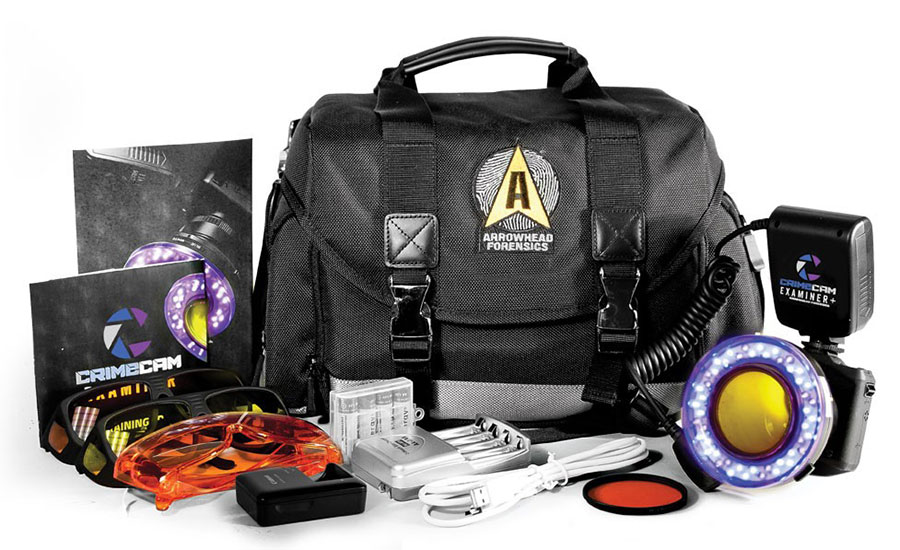 Camera
Canon EOS Rebel T6 DSLR camera with 18-55mm lens
8GB memory card
18 megapixel, 3x optical zoom
Full 1920 x 1080 HD video resolution
The CrimeCam Examiner+ Ring Light is available separately and can be easily attached to most Nikon and Canon cameras
General Inquiries and Sales
Our mission is to consistently deliver the best service experience to our customers. We pride ourselves on providing timely, responsive service to help insure customer satisfaction.
Contact us to discuss your particular requirements.
GA-EMS Email: EMS-DetectImage.info@ga.com
GA-EMS Tel: +1(858) 964-6823