Neal Blue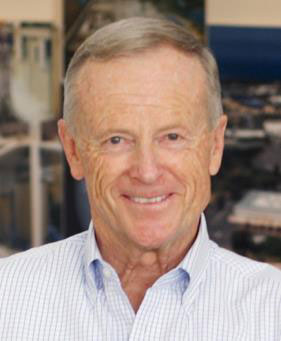 NEAL BLUE
Chairman & CEO
General Atomics
Neal Blue is Chairman and CEO of General Atomics (GA), San Diego. GA is a privately-held defense and high-technologies company, acquired by the Blue family in 1986. The GA group of companies now comprises over 15,000 employees and operates on five continents.
The GA group includes General Atomics Aeronautical Systems, of which Blue is founder and Chairman. General Atomics Aeronautical Systems produces a series of unmanned aircraft and provides electro-optical, radar, signals intelligence, and automated airborne surveillance systems.
GA's Electromagnetic Systems Division produces electro-magnetic aircraft launch and recovery systems for the U.S. Navy, satellite surveillance, electro-magnetic rail gun, high-power laser, hypervelocity projectiles, and power conversion systems. GA is the principal private sector participant in thermonuclear fusion research through its internationally recognized DIII-D and inertial confinement programs for the U.S. Department of Energy. GA developed the UCSD Supercomputer Center and has constructed 60 TRIGA nuclear research reactors in 22 countries. GA is a leader in development of next generation nuclear fission and high-temperature materials technologies.
The GA group and its affiliates also include General Atomics Europe in Germany, Heathgate Resources in South Australia, General Atomics Uranium Resources, the GA-Honeywell uranium conversion partnership, and Diazyme Laboratories.
Mr. Blue is co-founder and Chairman of Cordillera Corporation, Denver. Cordillera is a private company with investments in real estate, agriculture, natural gas distribution, and oil and gas production, including Harvard International Resources, which produces oil and gas in western Canada.
He is co-founder of the General Atomics Sciences Education Foundation, a Board member of Yale University's Jackson Institute for Global Affairs, and a member of the Center for New American Security and the Atlantic Council Advisory Boards. He is a recipient of Caltech's von Karmen award, and is a former trustee of the Salk Institute and the University of California San Diego Foundation.
Mr. Blue graduated from Yale University, is a pilot, and served in the U.S. Air Force. During college years he was a correspondent for the Yale Daily News/New York Times Paris-Calcutta Expedition and, later with his brother, was featured in Life Magazine for having flown a single-engine Piper aircraft around South America. Other activities have included development of a cocoa and banana plantation in Nicaragua and of real estate in California and Colorado.